Greece Starts Taking Orders for First Bond Offering Since 2014
By , , and
Investor orders for bonds said to exceed 6.5 billion euros

Country selling five-year bonds maturing in August 2022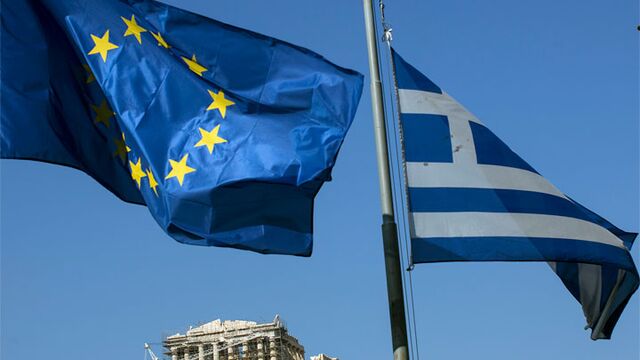 Greece will raise 3 billion euros ($3.5 billion) in its first visit to international bond markets since 2014 as it attempts to turn the page on a debt crisis that forced it to seek multiple international bailouts.
The sub-investment grade rated country is selling five-year notes at a yield of 4.625 percent, after tightening terms twice from an initial target of around 4.875 percent, according to a person familiar with the transaction. Investors placed orders worth more than 6.5 billion euros, the person said, asking not to be named because they aren't authorized to speak publicly.
"It's a test the market deal," said Dimitris Dalipis, a fund manager at Alpha Trust Mutual Fund Management SA in Athens, which is switching some of its Greek debt holdings to the new paper in a simultaneous offer to exchange 2019 bonds yielding 4.75 percent for cash. "I would expect any yield lower than the last five-year deal in 2014 to be marketed as a success, especially since it also lengthens Greece's debt profile.""
Greece's last offering of five year bonds in April 2014 priced with a yield of 4.95 percent.
The latest deal follows a new conditional bailout agreed last week with the International Monetary Fund involving a loan worth as much as 1.6 billion euros ($1.86 billion), contingent on euro-zone countries providing some debt relief. It also comes after the successful conclusion of the second European Union-backed bailout review and the disbursement of the first part of the 8.5 billion-euro tranche by the European Stability Mechanism on July 10.

Tuesday's sale was delayed from last week partly on account of a ceiling set by the International Monetary Fund on how much debt the country can hold. A technical solution was found since then, allowing some scope for issuance of new debt, a person familiar with the matter said Monday, asking not to be named as the topic is sensitive. The IMF declined to comment.
BNP Paribas SA, Bank of America Corp., Citigroup Inc., Deutsche Bank AG, Goldman Sachs Group Inc. and HSBC Holdings Plc are arranging the sale.
— With assistance by Sotiris Nikas
Before it's here, it's on the Bloomberg Terminal.
LEARN MORE