Greece Raises EU3 Billion in Bond Market Return After 3 Years
By , , and
Investor interest stems from expectations of economic recovery

Greece is paying 4.625 percent to borrow for five years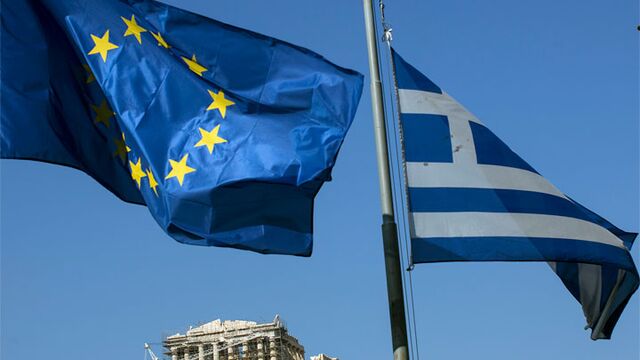 Greece raised 3 billion euros ($3.5 billion) in its first tapping of the bond market since 2014, with investors piling in on expectations the worst may be over for what was once the epicenter of Europe's debt crisis.
Yield-hungry investors welcomed the new Greek paper, which carried a 4.625 percent yield. The sale by the sub-investment-grade rated country drew 6.5 billion euros in more than 200 offers, said a Greek government official, requesting anonymity because the information is not public. Greece's last five-year bonds in April 2014 priced at 4.95 percent. Greece sold the new bonds along with a tender offer for the notes due 2019.
With the sale, the government of Prime Minister Alexis Tsipras is seeking to chalk out a path for an exit from the current bailout program, which ends in August 2018, while also capping the country's financing needs in 2019 -- expected to be about 19 billion euros. Greece decided to test the markets after it failed to convince creditors to immediately reduce its debt burden and was left out of the European Central Bank's bond-purchase program.
The outcome "was better than we expected," Greek Finance Minister Euclid Tsakalotos said in comments broadcast live on state-run ERT TV. "This is not the end. There will be a second and a third" bond sale to ensure the country exits its bailout program in August 2018, he said.
"Tsipras left behind 'collision economics' a long time ago, and has apparently decided that the best strategy for re-election in 2019 is to exit the bailout program," Nicholas Wall, manager at Old Mutual Global Investors, said in e-mailed comments. 
European Relief
"For this, he needs economic growth, access to markets and cooperation with European partners," Wall said. "A successful Greek exit from the aid program would also be a boon to European policymakers, who have long faced criticism about their approach to the Greek crisis and don't want to ask their taxpayers for more cash when this bailout package expires next summer."
Greece's euro-area creditors agreed to release 8.5 billion euros in new loans on June 15 even as they postponed until mid-2018 a binding decision on what measures they will provide to ease the country's burden. A successful second bailout review, an improved economy and greater support from euro-area partners emboldened Greece to return to the market.

Positive Rating
In other positive trends that have buoyed investor interest, the International Monetary Fund agreed to a new $1.8 billion conditional loan for Greece on Thursday, with disbursement contingent on euro-zone countries providing debt relief. Also, S&P Global Ratings raised the country's sovereign credit-rating outlook to positive from stable on Friday.
The bond sale was delayed from last week partly on account of a ceiling set by the IMF on how much debt the country can hold. A technical solution was found since then, allowing some scope for issuance of new debt, a person familiar with the matter said Monday, asking not to be named as the topic is sensitive. The IMF declined to comment.
BNP Paribas, Citigroup Inc, Deutsche Bank AG, Goldman Sachs International Bank, HSBC Bank Plc and Bank of America Merrill Lynch International are managing the new issue.
— With assistance by Stefania Spezzati
Before it's here, it's on the Bloomberg Terminal.
LEARN MORE