Economics
Dead Bodies Start Piling Up as Fuel Theft Booms in Mexico
Echoes of the government's bloody war with drug cartels are the last thing Mexico needs as it seeks to attract Exxon and BP.
By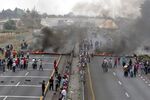 Buying stolen gasoline in the central Mexican state of Puebla is easy. Pull off the main highway into a busy parking lot, and the black marketeers are waiting in pickup trucks loaded with jerrycans. They'll siphon the fuel into your tank—boasting as they do that unlike a lot of the country's regular gas stations, they don't cheat customers.
While this illegal curbside commerce has been going on for decades, it has exploded in the past few years and now costs Pemex, Mexico's state oil company, more than 20 billion pesos ($1.1 billion) a year. The huachicoleros, as the fuel thieves are known in Mexico, dig up pipelines and hijack tanker trucks. These techniques have made Puebla, with its heavy vehicular traffic and extensive pipeline system, a target for organized crime looking to diversify their profit streams. The country's drug cartels have muscled their way in, with predictable mayhem. Nine people died in a July 2 shootout between rival gangs of robbers in Puebla. And at least 15 people have died in military operations to take out fuel theft rings over the past several months in an area of the state known as the Red Triangle.

The government has started cracking down because it needs to draw foreign capital into the energy sector, where oil output has been sagging because of a combination of underinvestment in exploration and production, aging wells, and deficient infrastructure. The country has a population about five times that of Texas, yet the U.S. state's fuel pipeline grid is 35 times larger.

Potential investors who already look askance at the steady drip-drip of losses from theft and smuggling are even more likely to be deterred by drug gang violence. "For potential participants in the fuel business, whether they're importing gasoline and diesel or they're looking to construct terminals, it's a reality check," says John Padilla, managing director of energy consulting firm IPD Latin America LLC. Exxon Mobil Corp., Glencore Plc, and BP Plc have all announced plans to set up or supply gas stations in Mexico. Commodity trader Trafigura Group has applied for fuel import permits. And as much as $2.3 billion in investment has been pledged for pipelines as well as terminals for storage and transport, according to the industry regulator. "We take theft very seriously," ExxonMobil spokeswoman Charlotte Huffaker said in an email, adding that the company remains "committed to opening Mobil-branded service stations in Mexico," but will not directly own or operate the stations. 
Foreign capital and know-how is exactly what Mexico's reform-minded legislators wanted when they voted in 2013 to end the state's 76-year-long monopoly in the oil and electricity sectors. The liberalizers have scored some wins: This month private companies announced oil finds in the Gulf of Mexico that may hold as much as 3 billion barrels (Mexico's oil production averaged 2.5 million barrels per day last year). Households, however, haven't seen their energy bills shrink, and political opposition to the creeping privatization remains vigorous, with one of the leading contenders in next year's presidential election promising to reverse the reforms.
Especially unpopular was the government's move to scrap fuel subsidies at the start of this year. Prices at the pump immediately jumped about 20 percent. Theft grew even faster: Illegal pipeline taps in the first five months of 2017 were up almost 70 percent from a year earlier, according to Pemex.

Fernando Chavala, a truck driver, says he was out of work for six months last year when the company he was working for had one of its 62,000-liter trucks stolen and stopped sending out deliveries. "When you're on the highway, you never know what could happen," he says, as he waits to fill up at a Pemex terminal in Puebla's state capital. "We don't have any security."
The aptly dubbed Red Triangle, which comprises a cluster of rural municipalities in the state, has seen two massacres due to government efforts to take down fuel thieves. Ten people were killed in the town of Palmarito Tochapan on May 3 when the military was deployed to round up suspects, and five died on July 21 in the Vicente Guerrero township in an attempt to capture the alleged leader of the state's main fuel theft gang, Roberto de los Santos de Jesús, alias "El Bukanas." 
Investors will likely stay clear of places like the Red Triangle. "They are going to start in areas less vulnerable to fuel theft," says Alejandro Schtulmann, president of Empra, a risk consulting firm in Mexico City. "They will only invest more when they see that the situation is safer."
Schtulmann says 30 percent of the consumer fuel trade is controlled by "petty criminals" operating solo. But as much as 20 percent of the commerce is run by the country's biggest crime conglomerates, the drug cartels. 
There are echoes of the drug war in the deployment of federal troops to Puebla and in the government's more than decade-long "decapitation" strategy to break up the cartels by targeting their leaders. Also reminiscent are the gang-on-gang clashes that broke out in July in the Puebla municipality of Huehuetlán el Grande. Nine people were killed allegedly for their involvement in the fuel trade and failure to pay an extortion fee to a rival group; authorities said five of them were kidnapped and their bodies found burned.
José Aguilar, a local resident, watched the procession of caskets, stooping under a tree to shield himself from the afternoon sun. As the line of mourners wound its way uphill to the cemetery, flanked by state police trucks, Aguilar said the best way to halt the violence was for townspeople to form a vigilante group. He approvingly cited similar efforts in states such as Michoacán, where self-defense militias have sprung up in farming communities and clashed with drug cartels and government forces. In Huehuetlán, "no one leaves their homes now after 6 or 7 in the evening," Aguilar says. "They shut the curtains, and the town is lifeless."
Officials say they're pursuing buyers as well as sellers. Pemex has canceled contracts with seven gas stations in Puebla that are under investigation for receiving stolen fuel. Pemex Chief Executive Officer José Antonio González Anaya has said that the company is attacking the demand side of the market. This month, the attorney general's office arrested a mayor in the Red Triangle for alleged involvement in the trade.

The squeeze is having some impact, judging by the price of black-market gasoline. Residents of the Red Triangle say they pay from 13 pesos to 14 pesos for a liter of illegal fuel, compared with 9 pesos last year. But Mexican drivers can still save about 20 percent by filling up at places like the parking lot in the market of San Salvador Huixcolotla. 
The attendants there don't have pumps. They carry plastic hoses and use their mouths to create suction so they can siphon the gas into customers' tanks. Some wear surgical masks to protect against the fumes. "How many liters?" one shouted to the driver of a red Honda with a baby napping in the back seat. He dispensed the fuel, then shook the empty 20-liter can at the car window to demonstrate there'd been no scrimping.
Consultant Padilla says the entire supply chain—from the complicit worker at a Pemex oil terminal all the way down to locals acting as lookouts while huachicoleros milk a pipeline—is worth about $1.5 billion and is set to expand. "That's a lot of money, and it ends up involving a lot of people," he says.
And despite the government's efforts, there remains public backing in Puebla for the black marketeers—and scorn for the federal troops sent in to catch them. "They're only trying to survive," says Dulce Rosario Martes, a taxi dispatcher in Palmarito. "There's no other work."
BOTTOM LINE -
Thefts of gasoline cost Mexico's state-owned oil company more than $1 billion a year. But the country stands to lose a lot more if investors are spooked by the growing violence.
Before it's here, it's on the Bloomberg Terminal.
LEARN MORE