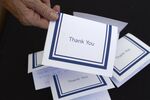 Investors in Asian equities need to print some extra thank-you cards. They would be remiss in not showing their gratitude to the region's private banks, and their clients' quest for yield.
Of the 82 bond issues in Singapore by publicly traded Asian companies in 2017, only 39 percent included a promise by the borrower to restrict leverage. For the first time in seven years, a majority of corporates in the city-state are selling so-called covenant-lite debt. This is odd, because Singapore's wealthy have suffered an unprecedented S$1.35 billion ($992 million) in local note defaults, according to a report Tuesday by Denise Wee of Bloomberg News. Many are stuck with losses as restructuring drags on.

Yet, greed is triumphing over fear, allowing companies to play fast and loose with terms and conditions. Since every bit of flexibility -- on maintaining a credit rating or keeping a lid on overall debt -- is an opportunity for companies to earn a higher return on equity, private banks' clients are essentially giving a free gift to shareholders.
And not just in Singapore. Last year, 67 percent of bonds offered in Hong Kong came with some sort of a constraint on corporate behavior. This year, that figure has fallen to 28 percent.
Contrast this exuberance with China, where restrictive covenants were practically nonexistent a few years ago because nothing ever defaulted. (Even now, 60 percent of the 1,500 publicly traded company notes covered by the nation's big four local agencies are rated AAA.) Still, a gigantic corporate debt overhang means Chinese investors are cautious. One in three mainland issues this year has come with a covenant, a 10-fold jump in six years.

Private banks' dominance of the Singapore bond market is playing a role in prolonging corporate distress. As Gadfly has argued, when an issue is too small for indexes that invite institutional participation and scrutiny, like JACI or CEMBI, the bulk of an offer gets lapped up by private-bank clients, including the mass affluent.
It goes swimmingly for a while, but when companies have trouble repaying, this fragmented ownership becomes problematic. Investors who specialize in buying distressed assets are hesitant to step in because it's hard for them to accumulate a stake significant enough to influence the restructuring process. By comparison, being able to purchase large chunks of nonperforming debt from a few big institutions in North America and Europe gives vulture funds a relatively simpler path to profit.
Nevertheless, it's the desperate hunt for yield by undiscerning buyers that's promising to make 2017 a record year for Asian dollar bond issues. It's also doing wonderful things for stock markets.
After all, if China Evergrande Group manages to scoop up $9 billion of creditors' money -- more than what the sovereigns of Indonesia and the Philippines have raised this year combined by hawking dollar debt -- and its shares jump 267 percent in seven months, then a thank-you note from equity investors to bondholders is the least they could do.
Before it's here, it's on the Bloomberg Terminal.
LEARN MORE