Your Evening Briefing
Here are today's top stories.
Bloomberg News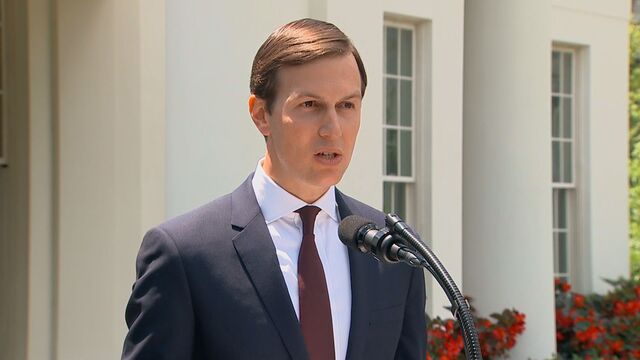 Want to receive this post in your inbox every afternoon? Sign up here.
"Let me be very clear: I did not collude with Russia and I don't know anyone on the campaign that did," Jared Kushner said in front of dozens of cameras outside the West Wing of the White House on Monday. His rare public comments followed a closed-door interview with Senate Intelligence Committee staff.  The public will see more of him on Tuesday, though, when the House Intelligence Committee interviews him about Russian election meddling. —Megan Hess
Kushner denies improper contacts with Russia during the 2016 election. Jared Kushner confirmed four contacts with Russians during his father-in-law's presidential campaign and the transition, but he described the encounters as unmemorable and denied colluding with the Russian government to help Donald Trump win. "I had no improper contacts. I have not relied on Russian funds to finance my business activities in the private sector," Kushner, a White House senior adviser, said in a statement prepared for an interview with Senate Intelligence Committee staff on Monday.
A hedge fund is betting $280 million on a 34-year-old guy. Dan Och still runs the show at Och-Ziff Capital Management Group, where he's the CEO and  chairman. But in the wake of a bribery scandal that spooked clients and blew away a third of its assets, the fund's fate is in many ways now in the hands of a little-known 34-year-old named Jimmy Levin.
Democrats reveal their plan to return to power. Eight months after a crushing election defeat that left the party in the political wilderness, Democrats are charting a path back to power in 2018 and 2020 — and it begins with emphasizing kitchen-table issues above all else. Party leaders plan to roll out a policy and messaging blueprint on Monday.
NASA has a way to cut your flight time in half. The space agency's supersonic plane could be quiet enough to lift the longstanding ban on overland travel, if it makes it to production.  In August, NASA says, it will begin taking bids for construction of a demo model of a plane able to reduce the sonic boom to something like the hum you'd hear inside a Mercedes-Benz on the interstate.
Deutsche Bank weighs moving $350 billion from the U.K. to Frankfurt following Britain's decision to leave the EU. That's almost a fifth of Deutsche's balance sheet. The project, dubbed Bowline, calls for trading in the German city to go live in September 2018 and for the assets to be moved over by March 2019.
Trump barrels down a road of no return, writes Albert R. Hunt for Bloomberg View. Replacing Jeff Sessions as attorney general "would produce a firestorm the likes of which Washington hasn't seen in decades. But Trump might well rationalize that such a risk isn't nearly as troubling as what a thorough investigation might uncover."
The most delicious wines you've probably never heard of.  The current flood of wines made from little-known grapes, such as pecorino and gringet, can't compete with the deluge of rosé, but the vogue for exotic varietals just keeps growing stronger.

Before it's here, it's on the Bloomberg Terminal.
LEARN MORE