The Bond Market Has Never Been More Bearish on 2-Year Treasuries
By
Speculators' bearish bets rise before Fed decision Wednesday

But eurodollar market reflects doubt about rate hikes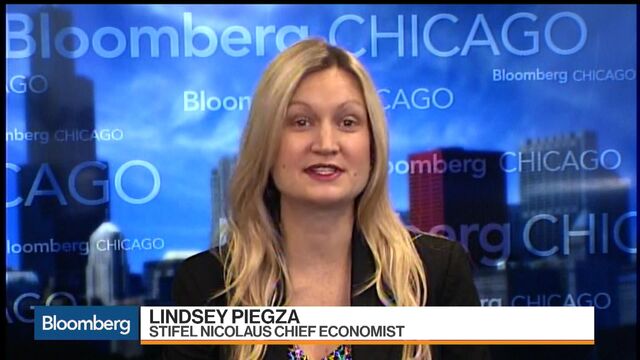 Looking at how hedge funds and other large speculators are positioned in short-term Treasuries, one might conclude that another Federal Reserve rate hike was imminent.
The group increased its net short position in two-year Treasury note futures to an unprecedented 274,213 contracts last week, according to Commodity Futures Trading Commission data. The maturity is among the most sensitive to Fed expectations, and the speculators stand to profit if the central bank is more hawkish.

Therein lies the mystery: The position build-up comes as a growing cadre of strategists expect Fed officials to tone down expectations for further tightening when they announce their rate decision Wednesday. U.S. inflation has retreated from the bank's 2 percent goal, leaving traders to debate whether policy makers will push forward or wait for price growth to rebound.
"The mindset of the market is that inflation continues to disappoint the Fed -- most people think the Fed is on hold for the rest of the year, to be honest," said Charles Comiskey, head of Treasuries trading in New York at Bank of Nova Scotia. "Being short the two-year note here just doesn't make sense."
The market-implied probability that the Fed will raise rates by year-end is about 45 percent, using the current effective fed funds rate and the forward overnight index swap rate. That compares with 62 percent on July 7, the day after two-year yields touched 1.43 percent, the highest since 2008. The maturity yielded 1.37 percent Tuesday.
To George Goncalves, head of fixed-income strategy at Nomura Securities International, the positioning should be viewed in the context of other maturities. 
Speculators remain bullish on 10-year Treasuries, for instance, boosting their net-long position to 282,329 contracts. When combined with bets against the two-year note, that amounts to expectations for further compression of the yield curve, which last month approached the flattest since 2007.

The trend in eurodollar futures is another sign that traders aren't convinced the Fed will stick to its path of policy normalization. After building up an unprecedented net short position of 3.2 million three-month eurodollar contracts in April, speculators have cut that in half. The price of eurodollars is directly influenced by Fed policy decisions.
The market is pricing in a near-zero chance of a rate increase this week. The Fed will probably indicate the timing of its balance-sheet reduction in September and wait until December to tighten again, according to a Bloomberg survey of economists conducted July 18-20. A month ago, expectations pointed to a possible September hike.
— With assistance by Edward Bolingbroke
Before it's here, it's on the Bloomberg Terminal.
LEARN MORE