Tarullo Says Weak Inflation Clouding Fed's Rate-Hike Outlook
By
Says potential chair change reason to start on balance sheet

Tarullo says reappointing Yellen 'would be great' for U.S.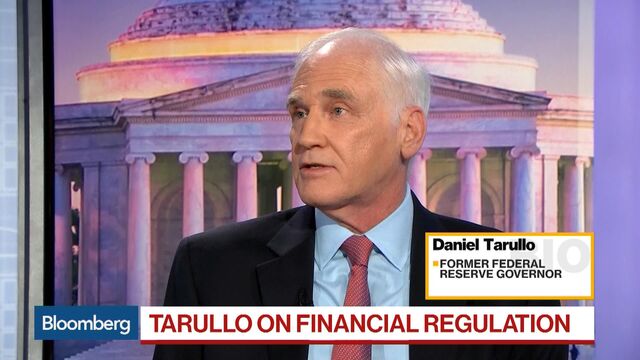 Former Federal Reserve Governor Daniel Tarullo said weak inflation could weigh on the central bank's discussions about whether to raise interest rates again, with only little risk that prices will surge out of control.
"People are thinking about what's going on with inflation," Tarullo, who stepped down from the Fed on April 5, told Bloomberg Television's David Westin on Monday. "We don't know whether in the next couple of meetings those concerns will be strong enough that the Fed will hold off from another rate increase or not."
Fed Chair Janet Yellen told lawmakers on July 13 that policy makers were watching inflation "very carefully" after weak readings clouded the prospects for its rise to the Fed's 2 percent target, though she didn't signal a change in the outlook for further gradual rate increases. Officials raised borrowing costs in June and are projected to hike again before year-end.
"It's a little hard to make the case for the kind of inflation runaway that we saw in the late '70s," Tarullo said. The risks of runaway inflation "seem pretty modest at this juncture."
A Bloomberg survey of 41 economists showed that a clear majority expects the Fed will wait until December before raising interest rates again and will begin shrinking the $4.5 trillion balance sheet in September. The rate-setting Federal Open Market Committee is scheduled to begin a two-day meeting in Washington on Tuesday.

Tarullo, viewed as a monetary-policy dove while at the Fed for his arguments in favor of delaying policy tightening, said one reason the start of the balance-sheet shrinking process appeared to be nearing was that the Fed had raised the target for its policy rate above 1 percent, which was in line with where investors thought it would start.
Another possible reason to move on the balance sheet is in the context of uncertainty over whether Yellen will be reappointed as chair, Tarullo said. Yellen's term as chair ends in February and President Donald Trump hasn't said if he'll renominate her.
"It may be that the Fed wants to make sure that policy is set on an understandable and certain course, so that if there is a transition to a new chair, that the balance sheet adjustments will already have been laid out," Tarullo said. "We don't know whether Chair Yellen will be reappointed. I think it would be great for the country if she were. But that's probably something that's also affecting their decisions."
Before it's here, it's on the Bloomberg Terminal.
LEARN MORE