business
Ryanair Shares Fall After Warning Fares Will Slide Over Year
By
Price decline anticipated as carriers compete for passengers

Some airlines 'possibly shouldn't be there,' CFO Sorahan says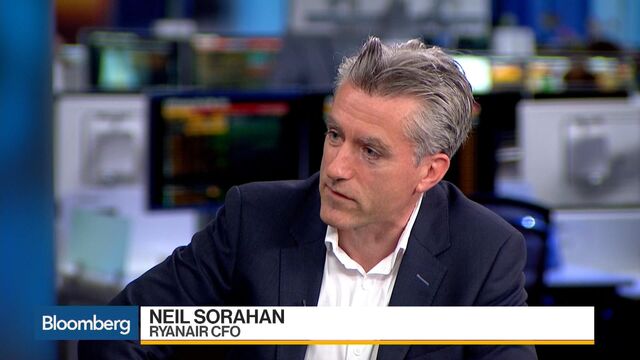 Ryanair Holdings Plc predicted that ticket prices will decline through the rest of the year as Europe's biggest discount carrier competes for customers amid excess capacity. The shares fell the most in four months.
The Irish airline said fares will slide 8 percent in the six months through March 2018, accelerating from a 5 percent drop in the fiscal first half. Amid the competitive pressure, Ryanair reaffirmed its threat to shift planes out of the U.K. because of Brexit, saying it needs clarity by next year.
Europe's carriers are facing a squeeze as the low oil price encourages airlines to add routes and flights that might otherwise be unprofitable. Ryanair, which has the lowest operating costs in the industry, is adding fuel to the fire by increasing capacity, with the company lifting its passenger target for fiscal 2018 by 1 million people to 131 million.
"Our bookings are strong but it's very competitive," Chief Financial Officer Neil Sorahan said in an interview on Monday. "With low fuel, there are guys in the market who possibly shouldn't be there. There's been a lot of capacity that's come into places like Spain and Portugal, the Middle East, Tunisia and Turkey."
Ryanair shares fell as much as 5.6 percent, the most since March 7, and were trading 2.4 percent lower at 17.62 euros as of 11:05 a.m. in Dublin, where it is based. The stock has gained 21 percent this year, valuing the company at 21 billion euros ($24.5 billion).
'More Bullish'
Buoyed by Easter falling in April this year instead of March in 2016, net income jumped 55 percent in the first quarter through June, propped up by a 1 percent increase in ticket prices. While Ryanair stuck by its full-year guidance for earnings of 1.4 billion euros to 1.45 billion euros, it cautioned that the remaining nine months will be difficult.
Cantor Fitzgerald analyst Rob Byde said in a note that a consensus figure of 1.49 billion euros for full year earnings which suggests Ryanair will beat the targeted range is unlikely to be modified on the basis of today's comments. Analysts are generally "more bullish than the company itself," he said of the caution around fares.
EasyJet Plc, Europe's No. 2 discount carrier, fell almost 6 percent Thursday after cautioning that fares are set to drop into next year. Ryanair had already warned in May that low oil prices would continue to support capacity growth and drag down prices by 5 to 7 percent in fiscal 2018.
Brexit Clock
Adding to the carrier's concerns is the possibility that U.K. flights may have to be curtailed from April 2019 if the aviation elements of Britain's planned exit from the European Union aren't addressed soon, with the clock "running down," Sorahan said. Ryanair wants clarity on the issue before publishing its summer 2019 schedule in the second quarter of 2018, and may cancel some or all of its U.K. flights in autumn of that year if there is no certainty about the legal basis of future services, shifting planes to continental Europe.
The company is also evaluating its options for continuing a handful of flights within the U.K., for which as an Irish airline it may need a new operating certificate. Buying a small British carrier to source a license remains an option, since acquiring one from scratch could take six months, Sorahan said.
To explore expansion opportunities, Ryanair has made an offer for insolvent Alitalia SpA, the highest-profile casualty of Europe's capacity splurge and fare war, Sorahan told Bloomberg Television. The Irish company has a "genuine interest" in the Italian flag carrier and the survival of its long-haul operations, having offered to provide passengers via a feeder agreement, he said.
Alitalia accepted non-binding bids for its assets on Friday and also received proposals from carriers including EasyJet, Deutsche Lufthansa AG and existing shareholder Etihad Airways PJSC, according to the Il Messaggero newspaper.
There's a "strong likelihood" that Ryanair will convert 100 options for Boeing Co. 737 Max jets into firm orders, possibly including the larger Max 10 version launched last month, though a decision is only due in the next year, Sorahan said. The carrier ordered 10 additional Max 200s in June, for a total of 110, and has extended leases on 10 older 737-800s.
Before it's here, it's on the Bloomberg Terminal.
LEARN MORE