politics
Macron Takes Aim at Libya Standoff With Paris Talks
By
Rivals Serraj and Haftar to meet at a chateau near Paris

French say goal is to find 'guidelines' for UN envoy Salame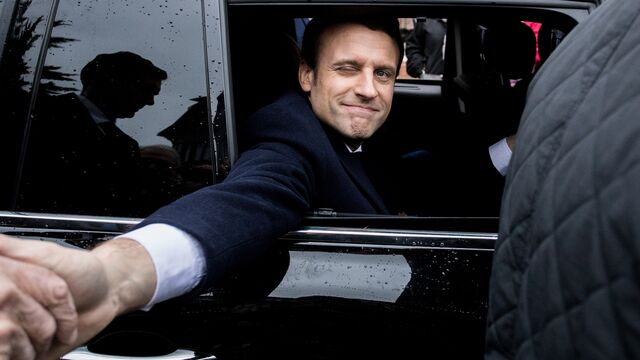 French President Emmanuel Macron is meeting Tuesday with the head of Libya's United Nations-backed government and the North African oil producer's powerful eastern-based military commander in the latest attempt to seek a solution to their standoff.
Macron's office said the initiative is aimed at facilitating the work of UN special negotiator Ghassan Salame, who will also take part in the talks near Paris between Prime Minister Fayez al-Serraj and Khalifa Haftar, who leads the so-called Libyan National Army.
"The goal is to build a state capable of responding to the fundamental needs of Libyans and with a unified regular army under civilian control," Macron's office said in a statement Monday announcing the meeting. "It's necessary to control Libyan territory and its borders in order to fight against terrorist groups and human and weapons traffickers, but also in order to return to a stable institutional life."
Libya descended into chaos following the uprising that toppled Muammar Qaddafi in 2011, with myriad armed groups and two administrations vying for power. A UN-mediated peace deal was meant to unite the country, but since arriving in Tripoli in March 2016, Serraj has struggled to expand his influence outside the capital. Salame, a Lebanese academic and civil servant, is the latest of the string of special UN negotiators.
Serraj and Haftar, who's backed by Egypt, the United Arab Emirates and Russia, met in Abu Dhabi in May for the first time since early last year. Initially hailed as a breakthrough, analysts said later the meeting was fruitless. A joint official statement was never issued and battlefield developments in the south of Libya soon eroded any goodwill.
The two sides will probably be urged to agree to a cease-fire, to create a unified national army, and to hold elections "as soon as possible," a draft statement showed, though French officials warned it was not finalized.
Among the main points of contention is Article 8 of the UN peace deal, which puts the army under civil authority.
French officials say their goal Tuesday is to define the general guidelines that would help Salame reach an agreement leading to elections next year. The French say they have kept Libya's neighbors such as Algerian, Egypt, and Italy informed. Apart from the U.A.E, Egypt and Algeria have also been involved in recent attempts to find a political settlement.
Italian Foreign Minister Angelino Alfano, in an interview with the newspaper La Stampa published on Tuesday, voiced his country's irritation at Macron's initiative. Italy sees Libya, its former colony, as its sphere of influence. 
Italy, like France, supports the Tripoli government and is in contact with Haftar, Alfano said.
"Our priority however is to strengthen the new UN Envoy Ghassan Salame," Alfano added. "There are too many processes open in Libya, too many mediators, too many initiatives, from the Gulf to Egypt, from Algeria to Tunisia, from the European Union to the interests of individual member states: we need to unify efforts and concentrate them on Salame, if each party follows its own path we'll end up undermining him."
Tuesday's meeting will begin at 3 p.m. Paris time at Chateau de la Celle, a foreign ministry property west of Paris. Macron will hold individual meetings with Serraj and Haftar, before four-way talks including Salame. Salame will also sit down earlier in the day with French Foreign Minister Jean-Yves Le Drian. Macron will make a statement to the press around 5:30 p.m.
— With assistance by Ghaith Shennib, and John Follain
(
Updates with draft, Italian comments from sixth paragraph.
)
Before it's here, it's on the Bloomberg Terminal.
LEARN MORE