IMF Cuts U.K. Forecast as Brexit Inflation Knocks Consumers
By
Economy prediced to grow 1.7% this year instead of 2%

Household wellbeing deteriorates most in three years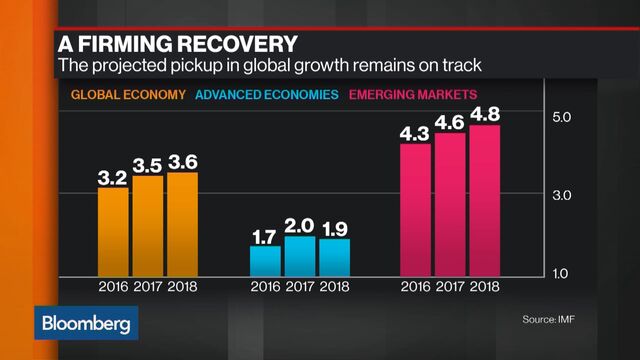 The International Monetary Fund revised down its 2017 growth forecast for the U.K., citing slower-than-expected expansion at the start of the year.
The pace will slow to 1.7 percent from 1.8 percent in 2016, the IMF said in an update of its World Economic Outlook, after predicting a pickup to 2 percent in April. The cut comes after growth in the first three months of the year dipped to 0.2 percent, and data this week are likely to show barely any recovery in the second quarter.
While the U.K. initially performed better than many expected after the Brexit vote in June 2016, accelerating inflation is starting to crimp consumer spending, the biggest driver of the economy. The pound's decline since the referendum has pushed inflation to 2.6 percent, above the pace of average wage growth.
IHS Markit said Monday that its household finance index fell to the lowest since July 2014 this month because of rising living costs. There was a sharp reduction in consumers' appetite for spending on big-ticket items like household appliances and holidays.
The U.K. Treasury responded to the IMF report by saying that the "fundamentals of our economy are strong."
But it added that the forecast "underscores exactly why our plans to increase productivity and ensure we get the very best deal with the EU are vitally important." Chancellor of the Exchequer Philip Hammond is a leading advocate within the government for a so-called soft Brexit, in contrast to some who want a clean break with the bloc.
The IMF revised up its projections for many European countries, including France, Germany, Italy and Spain. Britain has until March 2019 to secure an exit deal with the bloc, and negotiations are off to a rocky start.
In an article in the Guardian newspaper published Monday, former Bank of England policy maker Danny Blanchflower said the U.K. is "fast becoming the sick man of Europe." Another former BOE official, Andrew Sentance, said recent indicators point to "continued slow growth," blaming faster inflation and a squeeze on consumers.
Before it's here, it's on the Bloomberg Terminal.
LEARN MORE