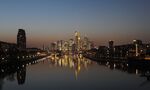 Frankfurt appears to be winning the race to woo the City of London's investment bankers and traders. Citigroup Inc., Morgan Stanley and Deutsche Bank AG are all set to move hundreds of jobs there as they brace for Brexit.
Still, if this is what victory looks like for euro-zone financial centers, it's a hollow one.

The catalyst for moving jobs is Brexit. Not just any Brexit -- a "hard" one that would cut U.K. financial firms off from freely selling their services in the EU. Nobody can actually predict what will happen at the end of the negotiations in 2019, so banks are in the awkward position of planning for the worst.
Setting up a Frankfurt trading hub with a few hundred jobs seems like a regulatory prophylactic for firms that had for years counted on London as a reliable home -- not a growth bet on Europe's capital markets. Frankfurt is winning a slice, not the pie.
Is this a reason to punch the air in delight? The banks themselves don't seem to think so. CEOs glumly talk about minimizing disruption and a reasonable worst outcome; moving staff and assets will cost precious profit.
When Lehman Brothers hubristically cut the ribbon on its shiny Canary Wharf headquarters in 2004, U.S. banks boasted returns on equity of 15 percent -- today, they are closer to nine. Euro-zone banks' returns fell from about 12 percent in 2004 to 3.5 percent by 2014. The industry is looking for ways to shrink and cut costs. Setting up shop at the Innenstadt or elsewhere, with a likely duplication of existing systems, does the opposite. Don't expect much popping of champagne.
The future heralds fragmentation, not Frankfurtization.
London will still be home to the majority of the financial ecosystem for the time being. Dublin and Luxembourg will also mop up jobs and support staff from firms like JPMorgan and Morgan Stanley.
Germany, home to the European Central Bank, will be first among many euro hubs. Perhaps the resurgent European economy, accompanied by a surge in corporate spending and deal making, will make the transition easy. Renewed investor appetite for euro bank shares in recent months suggests a willingness to underwrite growth strategies.

But executives openly warn that more inefficiencies and costs could push up prices for clients or reduce the range of services offered. More complexity could see business lost to New York, or Asia. Given European banks have for years been losing market share to Wall Street, home-grown firms wouldn't easily fill the gap.
Some will no doubt say these are manageable risks, offset by the benefits of repatriating the disproportionate amount of jobs and capital bagged by the City of London over three decades.
But unintended consequences have a habit of waylaying best-laid plans. It seems strange to be cheering the impact of a hard Brexit on the trader population of Frankfurt at the same time as European companies are warning of the impact of higher barriers to trade, availability and cost of finance, and restructuring costs. If there is a clear strategy to ensure an orderly financial transition process, it's well-hidden.
A victory for Frankfurt doesn't feel like one for Europe right now.
Before it's here, it's on the Bloomberg Terminal.
LEARN MORE