Eminence Plans to Vote Against Sabra's Care Capital Deal
By
Ricky Sandler's hedge fund says it owns 3.9% stake in Sabra

Investor argues acquisition makes little strategic sense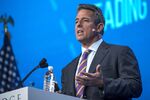 A second investor in Sabra Health Care REIT Inc. has come out against its proposed takeover of Care Capital Properties Inc., arguing the transaction makes little strategic sense and the purchase price is too high.
Eminence Capital, the $6 billion hedge fund run by Ricky Sandler, owns 3.9 percent of Sabra's outstanding shares and plans to vote against the deal at an Aug. 15 meeting, according to a letter to the property trust's board. The New York-based investor said the deal would increase Sabra's exposure to skilled-nursing facilities, a business where profits are under pressure due to a shift toward different Medicare programs.
"While we emphasize poor strategic fit as our primary issue with the transaction, the price Sabra is paying is also meaningfully too high," Sandler wrote in the letter, which was obtained by Bloomberg. Eminence, founded in 1999, makes wagers on stocks and sometimes takes an activist approach to its investments.
Sandler says the deal goes against Sabra's stated goal of diversifying its business, and would reverse the company's efforts to reduce exposure to skilled-nursing facilities including its largest tenant, Genesis Healthcare Inc. After the deal closes, about 73 percent of Sabra's business will be exposed to skilled-nursing facilities, up from about 50 percent currently, according to the letter.
As much as 85 percent of Care Capital's business is exposed to skilled-nursing facilities, Sandler wrote, highlighting declines in rental income of at least 20 percent over the next three to five years as one of the biggest threats.
"While this deal may be near-term accretive, we strongly believe it will be decidedly dilutive after larger rent adjustments and continued industry pressures," Sandler said, urging the board to look at alternatives.
Tenant Base
Diversifying the company's tenant base will offset any negative impact that increased exposure to skilled-nursing facilities will have, Sabra Chief Executive Officer and Chairman Richard Matros said in a telephone interview Monday.
"The other benefits we're getting from the deal offset what we view as a temporary increase in exposure," he said.
Several credit rating agencies have told Sabra it needs to diversify its tenant base to receive an investment-grade credit rating, Matros said, adding that the transaction will do that and also allow the company to acquire more assets at a lower cost of capital. Those acquisitions will shrink its exposure to skilled-nursing facilities over time, he said.
"There's an attempt to kill the deal because the conventional wisdom here, and I wouldn't disagree with it, is that the stock would probably pop back to where it was before the deal was announced," Matros said in an interview, referring to the investors' objections. "They don't offer any strategic alternatives."
Sabra hasn't had any talks with Eminence nor does it have any scheduled, he said.
A representative for Care Capital didn't respond to requests for comment.
Share Decline
Eminence joins Hudson Bay Capital Management, which came out against the deal earlier this month. Hudson Bay said in its own letter to the board that the deal has already caused a massive decline in Sabra's share price.
Shares of Sabra are down about 12 percent since announcing the all-stock deal to acquire Care Capital in May. Care Capital fell 5.7 percent over the same period, erasing the initial gains after the deal was disclosed. The Dow Jones Equity REIT Total Return Index rose 3 percent during that time.
Shareholder Approval
Under the terms of the deal, Care Capital shareholders would receive 1.123 Sabra shares for each Care Capital share. That represented about a 12 percent premium to Care Capital's closing price on May 5, the last trading day before the deal announcement.
The deal, which creates a health-care REIT with a combined 564 investments, requires approval from a majority of shareholders who cast a ballot at the August 15 meeting. Sabra's management team would lead the combined company, which would have an enterprise value of about $7.4 billion and keep the Sabra name, the companies said at the time.
Sabra, based in Irvine, California, is a real estate investment trust that owns nursing homes, assisted-living facilities and rehabilitation and independent-living centers. Chicago-based Care Capital acquires and leases skilled-nursing facilities and other health-care properties.
Before it's here, it's on the Bloomberg Terminal.
LEARN MORE