Duterte Threatens Miners With Tax as Ore Processing Favored
By and
Philippine leader says environment protection is paramount

Lawmakers had ousted his activist-choice for environment post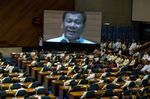 Miners bore the brunt of Philippine President Rodrigo Duterte's annual address to congress as the tough-talking leader backed the local processing of metal ore and threatened mining firms with more taxes unless they increase efforts to protect the environment. Mining shares fell.
In his State of the Nation address before lawmakers on Monday, Duterte called on the industry to build plants that will process raw materials into finished products, signaling that he doesn't favor exporting ores. He also placed an emphasis on protecting the environment, which he said is nonnegotiable, over mining revenues.
"At this point in my administration, it's possible that we shall put a stop to the extraction and exportation of our mineral resources to foreign nations for processing abroad and importing them back to the Philippines," Duterte said in the speech that also focused on his deadly drug war. "Spend to restore the virginity of resources or I will tax you to death."
Shares of Nickel Asia Corp. and Global Ferronickel Holdings Inc. dropped 3.1 percent and 3.9 percent respectively in trading on Tuesday. They're among key mining firms operating in the country, the world's top producer of nickel ore. Nickel prices surged 2.7 percent on the London Metal Exchange on Monday.
Some lawmakers and the environment department under former Secretary Gina Lopez had signaled the nation may bar shipments of unprocessed ores and follow the same track taken by Indonesia, which had been the biggest nickel supplier until it banned shipments of unprocessed ores in 2014.
Market Roiled
Duterte's warning to miners comes months after lawmakers rejected his choice of an activist as chief of the environment department. Lopez, who roiled the global nickel industry with her threat to close or suspend mines in an unprecedented crackdown, was replaced with an ex-military chief.
"The protection of the environment must be made a priority ahead of mining and all other activities," the president said in the speech. "I sternly warn all mining operations and contractors to refrain from the unbridled and irresponsible destruction of our watersheds, forests and aquatic resources."
The Chamber of Mines supports Duterte's plans for mining firms to be responsible in paying taxes and looking after the environment, Vice President Ronald Recidoro said in a statement.
Duterte also urged critics to stop condemning his drug war and instead support the crackdown that he said will help sustain economic growth and boost investor confidence.
"The economy surges only when there is peace and order prevailing in places where investors can pour their capital and expertise," he said, adding that the fight against illegal drugs will be unrelenting.
Other key points of the address:
The sea dispute with China and a proposed shift to federalism needs to be tackled soon, and the Philippines will pursue good relations with all countries.
Duterte lobbied congress to approve his tax-reform package to fund the national budget and support the poor.
The government accepted cigarette maker Mighty Corp.'s tax settlement offer of 25 billion pesos ($493 million) -- the biggest settlement on record -- but this doesn't mean dropping criminal charges against the company and its officers.
— With assistance by Cecilia Yap, and Clarissa Batino
Quotes from this Article
Before it's here, it's on the Bloomberg Terminal.
LEARN MORE