Five Things You Need to Know to Start Your Day
Get caught up on what's moving markets in Asia.
By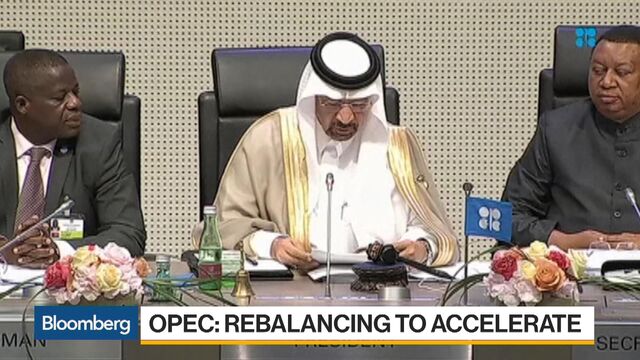 Want to receive this post in your inbox every morning? Sign up here.
No output curbs imminent for Libya or Nigeria, major powers push for resolution to Gulf crisis, and lots of Trump turnover. Here are some of the things people in markets are talking about.
Keep Pumping
One thing that won't be discussed during Monday's talks between OPEC and other major oil producers: curbing Libya and Nigeria's production. Oil prices have moved lower in 2017 despite the agreement reached late last year aiming to expediently alleviate the supply glut, thanks in part to resilient U.S. production as well as swelling output from those African OPEC members, which have been exempted from the deal. The IMF has lowered its 2017 growth estimate for Saudi Arabia to just above zero, citing austerity and these oil production cuts.  Saudi Arabia's oil exports to the U.S. have sunk to their lowest level in seven years. China, meanwhile, is shifting some of the oil product glut to the rest of the world with surging exports of diesel and gasoline.
Gulf Convergence
Britain and the U.S. are calling for an end to the boycott in light of Qatar's commitment to fighting terrorism, with Turkey's President Recep Tayyip Erdogan in the Gulf attempting to help orchestrate an end to the nearly two month long diplomatic and economic isolation of the Gulf nation. The Saudi-led alliance, however, wants concrete changes to Qatar's policies before agreeing to any dialogue. Meanwhile in financial markets, there's been a convergence between Saudi Arabian and Qatari assets.
Meet the Mooch
A tumultuous week of turnover around the White House was capped by the appointment of Anthony Scaramucci as the new communications director -- and coincident resignation of press secretary Sean Spicer. The newest member of the administration -- and founder of SkyBridge Capital (a fund of funds) -- has a lot in common with U.S. President Donald Trump. On Sunday, Scaramucci said it was time for the White House to hit the "reset button,"  and has been deleting previous criticisms of the president posted on social media in order to avoid being a "distraction."
Cheaper ChiNext
There might be a silver lining to the world-lagging performance of Chinese small caps this year. The ChiNext Price Index, comprised mainly of tech stocks, is poised to be less expensive based on trailing earnings than its U.S. equivalent, the Nasdaq Composite Index, for the first time on record. China's deleveraging drive and concerns about earnings growth have weighed acutely on the small cap gauge. On Friday, tech stocks in Hong Kong snapped a nine-session winning streak. AAC Technologies led the way down, falling double digits after Jefferies said that management revealed revenue growth would slow to a single digit pace.
Coming Up...
It's a relatively light day on the economic calendar in the region, headlined by the preliminary reading of the Nikkei Japan manufacturing purchasing managers' index for July. Other Japanese prints include the May editions of the leading and coincident indexes as well as supermarket sales for June. Singapore's June inflation reading is on deck, with economists calling for the core rate to hold steady at 1.6 percent year-on-year. It's also jobs day over in Taiwan, where economists are calling for the unemployment rate to tick down to 3.71 percent from 3.79 percent.
What we've been reading
This is what caught our eye over the last 24 hours.
Before it's here, it's on the Bloomberg Terminal.
LEARN MORE