Venezuela Urged by Mercosur to Refrain From Escalating Tensions
By
Trade bloc, neighbors call on Caracas not to 'divide' society

Some support among members for stronger language, actions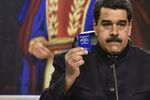 Venezuela's Latin American neighbors urged President Nicolas Maduro to refrain from actions that might exacerbate the country's political crisis in a disappointment to some regional governments that favored more direct and forceful criticism.
Mercosur, South America's largest trade bloc, called on "the government and the opposition not to carry out any initiative that could divide further Venezuelan society or aggravate institutional conflicts," in a joint statement issued at the end of a summit in Mendoza, Argentina. Member countries Brazil, Argentina, Uruguay and Paraguay were joined by Chile, Colombia, Guyana and Mexico in signing the statement.
International condemnation of the Maduro government's plan to rewrite the country's constitution to maintain its hold on power is gathering pace after the U.S. said it would impose sanctions on Venezuelan officials if Maduro goes ahead.
Mercosur offered itself as a conduit for dialogue between the government and the opposition. Argentine Foreign Minister Jorge Faurie said Mercosur stopped short of issuing economic sanctions such as barring beef exports to Venezuela because no member of the trade bloc wanted add to the suffering of Venezuelans already enduring economic crisis and endemic food shortages.
Some members of Mercosur had hoped for a more strongly worded statement and had hinted that it would specifically mention the constituent vote. But political differences have often marked the group and the more left-leaning Uruguay has always been wary of directly criticizing the Venezuelan government.
Brazilian Foreign Minister Aloysio Nunes Ferreira said the statement alludes to the constituent assembly.
"What is more positive for Venezuelan democracy - a statement where not everything is said but that has the signatures of all the countries or no statement at all?" Nunes said at a news conference in Mendoza alongside his Argentine counterpart. "The phrases are there and that's why I signed."
Before it's here, it's on the Bloomberg Terminal.
LEARN MORE