charted
The Spanish Housing Market Is Finally Recovering
After a long downturn the economy is rebounding and banks are lending again.
By and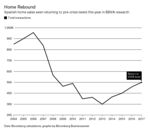 Spanish home sales are on track to return to pre-crisis levels this year, with half a million properties being sold, according to a study by Madrid-based BBVA Research. That would be the highest level since 2008, when the housing market was crashing. Citing improved economic and financing conditions, BBVA predicts the total number of transactions to rise 10 percent this year while prices increase by around 3 percent.
Before it's here, it's on the Bloomberg Terminal.
LEARN MORE