Mystery Bond Trader Nets $10 Million on Treasury Strangle Gamble
By and
A $10 million gamble on volatility pays off as yields decline

Wager encompassed inflation data miss and ECB decision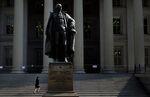 The unknown bond trader who placed a potentially record wager in the Treasury options market may have just netted a $10 million profit.
The $10 million worth of put and call options on 10-year Treasury futures that the trader purchased on July 11 expired Friday at 3 p.m. in New York. At expiry, the benchmark 10-year yield was about 2.23 percent, down about 15 basis points from when the so-called strangle trade was initiated. This kind of position gains value if there's a major swing in prices in either direction. Futures prices rose to 126-10, representing profit of about $10 million for whomever made the bet, assuming they didn't pare the position as it turned profitable.
The trade has been closely watched in the $14 trillion Treasuries market. And it's not just because the size was possibly unprecedented for a strangle. It's also because its success depended on a big price swing at a time when fixed-income volatility gauges are at all-time lows.

The trade, which had unlimited upside once it broke out of the strangle range, would have benefited equally from a similar size selloff. As it turned out, Treasuries rallied, and bond-market volatility has been shown to drop along with yields.
Ironically, even though the trade benefited from big price swings, it may have caused more subdued moves in the days leading up to its expiry.
Wall Street strategists noted that 10-year Treasury futures struggled to move far beyond the 126 strike price for the call option in the strangle, in part due to dealer hedging. With the position now off the board, it could mean trading will be less constrained around that level.
So for traders eager to replicate the $10 million bet that doubled someone's money over the course of two weeks: The market's all yours.
Before it's here, it's on the Bloomberg Terminal.
LEARN MORE