As Immelt Bows Out, GE Shows the Stench of Oil Is Hard to Escape
By
Gas-turbine manufacturer also sees pressure in power business

Share decline makes company the biggest loser on Dow this year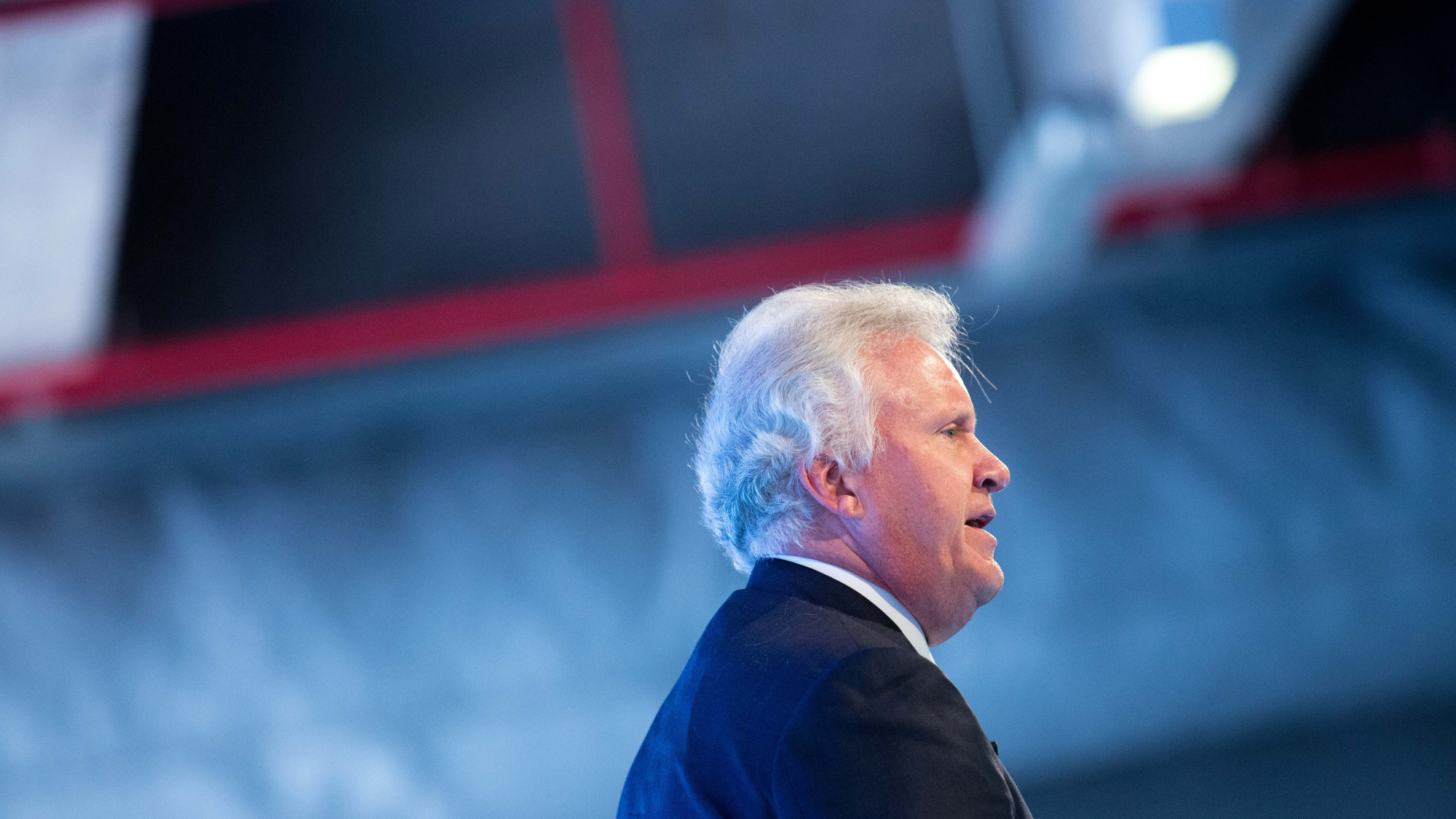 In his final days atop General Electric Co., Jeffrey Immelt still can't throw off oil's stink.

In his farewell earnings report, the chief executive officer ended his 16-year tenure by telling Wall Street that GE's earnings are likely to be disappointing the rest of this year. The culprit: sputtering energy markets.
It was the latest setback for a CEO who never could win over investors and came under pressure this year from activist shareholder Trian Fund Management. GE plunged the most in almost two years Friday and is poised for the seventh straight decline on a day it reported earnings.
Oil has become a source of headaches for GE investors as well as a symbol of Immelt's efforts to find a path forward for a signature U.S. company. The departing CEO built up the crude business by spending billions on acquisitions before prices tumbled and customer demand for oilfield equipment dried up. He closed a deal this month to merge those assets with Baker Hughes, but GE is hardly exiting the industry: It retained a majority stake in the combined entity.

GE's reliance on oil -- along with power generation, renewable energy and aviation -- became more pronounced under Immelt as he sold off finance and consumer operations. It's now the job of John Flannery, a GE veteran set to succeed Immelt on Aug. 1, to decide the future composition of the company.
"Because of what we've learned about the volatility over the past two years, the question is: Is that the right thing for the portfolio?" said Deane Dray, an analyst at RBC Capital Markets. Since the new Baker Hughes company is publicly traded, "GE has an opportunity to structure a staged exit. That allows them to exit oil, should they choose to."
Forecast Bottom
With the crude and power markets weighing on GE's results, adjusted earnings are likely to be near the bottom of the company's previous forecast of $1.60 to $1.70 a share, GE said Friday. Analysts anticipate $1.62 a share, based on the average of estimates compiled by Bloomberg.
GE didn't mention next year's profit target of $2 a share, though Flannery said he would give a comprehensive business update in November. He plans to focus on "reframing our look at 2018 and beyond," he said on a conference call with analysts.
GE has struggled this year with cash-flow concerns and soft demand in some markets. The Boston-based manufacturer recently agreed to deepen cost cuts amid pressure from Trian, the activist investor co-founded by Nelson Peltz.
The shares tumbled 3.2 percent to $25.84 at 2:57 p.m. in New York after dropping as much as 5.4 percent for the biggest intraday decline since August 2015. The drop extends GE's slide this year to 18 percent, making the company the biggest loser in 2017 on the Dow Jones Industrial Average, which has advanced 9.1 percent.
Earnings Fall
Second-quarter adjusted earnings fell to 28 cents a share, GE said. That exceeded the 25 cent average of analysts' estimates compiled by Bloomberg. Sales declined 12 percent to $29.6 billion, compared with $29.2 billion expected by analysts.
Revenue rose 5 percent in the power division as profit slid 10 percent. Sales fell 3 percent in GE Oil & Gas, while profit in the unit plunged 52 percent.
"Power feels more challenging than where we came into the year. Oil and gas definitely is more challenging," Chief Financial Officer Jeff Bornstein said in an interview. The crude-focused division will perform better in the second half, "but it's not going to be the kind of recovery the business thought coming into the year."
For the company as a whole, industrial operating cash flow rose to $1.5 billion, a sharp turnaround from the previous quarter. Immelt had promised the metric would rebound after a surprise $1.6 billion plunge during the first three months of the year rattled shareholders. But the company still needs a "huge" second half to achieve full-year targets, said Gautam Khanna, an analyst at Cowen & Co.
Cash Forecast
While GE stood by its 2017 forecast of $12 billion to $14 billion of industrial operating cash flow, the results are likely to be near the bottom of the range, the company said.
The disappointing performance extended Immelt's uneasy relationship with investors. The shares have fallen almost one-third since he took the helm, and they haven't risen on a day when GE reported earnings since late 2015.
While he became one of the world's best-known CEOs and won praise for shifting the portfolio away from finance, Immelt failed to win the accolades that Wall Street bestowed on his predecessor, Jack Welch. Immelt faced criticism for cutting the dividend in 2009 and paying too much for some acquisitions. He also built up the oil and gas division just before crude prices plummeted.
GE broadened its oilfield offerings with the Baker Hughes transaction, which is intended to help the companies capitalize on an eventual rebound.
"We don't like the current oil and gas cycle," Immelt, who will stay chairman until year-end, said on the call. "But our business is significantly improved and will prosper as the cycle recovers."
Before it's here, it's on the Bloomberg Terminal.
LEARN MORE