Your Evening Briefing
Bloomberg News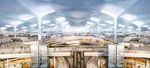 The evening briefing will soon be available in your inbox every day. To be among the first to get it, sign up here.

If you're lucky enough to be jetting off on your summer holidays this weekend, chances are your time at the airport will be a low-point. No matter how well-regarded a particular airport happens to be, the slog from curb to cabin is pretty much the same wherever you go. Look forward 20 years, however, it might just be a different story. Many of us will be driven to the terminal by autonomous cars; our eyes, faces, and fingers will be scanned; and our bags will have a permanent ID that allows them to be whisked from our homes before we even set out. And if you're not fortunate enough to be going on vacation this weekend, you'll have plenty of time to read about the airports of the future.
China's got a huge artificial intelligence plan. The country aims to make the artificial intelligence industry a "new, important" economic growth driver by 2020, according to a plan issued by the State Council. Policy makers think the industry can generate more than $59 billion of output per year by 2025. Key development areas include AI software and hardware, intelligent robotics and vehicles, virtual reality and augmented reality.
North Korea's economy is growing at its fastest pace since 1999. In 2016, the nation's GDP expanded 3.9 percent from a year earlier, according to an estimate from the Bank of Korea. Military spending, including the testing of nuclear weapons and missiles, help boost growth, while expansion was concentrated in mining, manufacturing and utilities. Tourism will likely be on the downswing, however. The U.S. government will ban its citizens from traveling to North Korea after a student died shortly after returning home from the isolated nation, according to the travel agency that arranged that trip.
These are the U.S. firms at risk from a trade war with China. High-level economic talks between the two countries were frosty in the middle of the week, with the U.S. scolding China over its trade surplus.  That doesn't necessarily signal a trade war is imminent, but Trump's weighing whether to restrict imports of Chinese steel and aluminum, a move that could prompt retaliation from Xi Jinping. Such tit-for-tat actions could lead to a Chinese backlash against American businesses. These are among the companies with the most to lose.
Vietnam's beer drinkers are giving big brewers beer goggles. With the government planning to sell its majority stakes in the country's two biggest domestic beer companies, the doors are wide open for foreign rivals to enter the market. Beer sales are projected to leap 65 percent in the decade through 2021, making it a potentially lucrative gamble. But, with concerns about binge drinking and alcohol-related violence, the government is looking to slow the liquor flow. An increase in beer tax and proposals to turn off the taps during lunch hours and the late evening are just some of the measures that could spoil the party.
There's a new second-richest person in China. The week didn't begin well for Wang Jianlin, whose Dalian Wanda group fell under the gaze of the country's regulators, denting his net worth. And it's ended badly too, with the news that Tencent chairman Pony Ma has leapfrogged Wang to become the country's second-richest person. 

This is one Alaskan cruise for your bucket list. If a "luxury-meets-expedition" experience sounds good, this is the voyage for you. Seabourne Cruise Line,  the small-ship cruise company whose restaurants are run in partnership with legendary chef Thomas Keller, is sailing to Alaska this summer for the first time in 15 years. Its itineraries put a premium on active exploration: kayaking through fjords, hiking on glacier faces, trekking into ice caves, and paddling to waterfalls. And they're capped at 458 passengers.

Before it's here, it's on the Bloomberg Terminal.
LEARN MORE