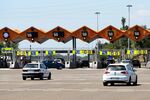 Investors had been guessing whether a Spanish buyer might try to thwart an attempt by Italy's Benetton family to buy Iberian toll-road operator Abertis Infraestructuras SA.
Construction group ACS Actividades de Construccion y Servicios SA has now stepped forward. It will need some friends to have a fighting chance to sending the Benettons packing.
Atlantia SpA, an Italian infrastructure group 30 percent owned by the Benettons, made a 16.3 billion-euro ($19 billion) offer for Abertis back in May. Thanks to the fact Atlantia can borrow money at an absurdly low rate of 1.9 percent, most of its bid is in cash.
The main obstacle to a counter-offer has always been the sheer size of the task: Abertis has an enterprise value of more than 31 billion euros. Reported interest from a consortium of infrastructure funds has so far come to naught. Spanish airport operator Aena SA has also indicated it won't make a move.

For ACS, with a market capitalization of 10 billion euros, this looks highly ambitious—even by the standards of swashbuckling billionaire chairman Florentino Perez. Most of ACS's value is attributable to a 72 percent stake in German peer Hochtief AG, which in turn has most of its worth tied up in a 73 percent stake in Australian construction firm Cimic Group.

ACS has the political advantage of being Spanish, and could therefore be a useful figurehead for a bid from an international consortium. Even so, the logic is questionable. ACS used to own a stake in Abertis—so a deal would reverse its strategy. These days the group's focus is on infrastructure construction and industrial-engineering, not managing toll roads.
Financially an offer would be a stretch, too. True, Hochtief's shares look like a decent acquisition currency. After more than doubling in the past two years on hopes of a pick-up in infrastructure spending, they now trade on 23 times estimated earnings. Abertis stock changes hands for about 18 times. But most Abertis investors are likely to favor cash.
ACS has just rebuilt its balance sheet after it was wrecked in the collapse of the Spanish construction market following the financial crisis of 2008.
There's little debt across ACS's triple-layered corporate structure. It's possible a merged Abertis-Hochtief could gear itself up to the gills, too. The snag is that Hochtief isn't a pure infrastructure company, so it's unlikely ACS will be able to secure financing as cheaply at Atlantia. The latter may yet have room to improve its own offer.
ACS fell 5 percent in early trading on Friday. Perez is going to need some friends to support him in any Abertis bid. He's unlikely to find them in the stock markets.
Before it's here, it's on the Bloomberg Terminal.
LEARN MORE