Acacia Officials Said to Be Interrogated by Tanzanian Agents
By , , and
Acacia says employees interviewed by government agencies

Tanzania plans to renegotiate mining agreements in the country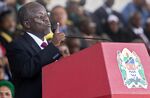 At least two senior employees at Acacia Mining Plc have been detained for questioning by Tanzanian authorities over the past week, escalating a dispute between the company and the state.
Tanzanian President John Magufuli has accused Acacia of failing to pay billions of dollars of taxes. In March, the state banned exports of unprocessed gold and copper, a move Acacia later said has been costing it $1 million a day in lost revenue. Earlier this month, Tanzania's government approved laws that would enable the state to renegotiate contracts with mining and energy companies. The company's shares tumbled in London on Friday.
"Many senior employees have been interviewed by the authorities," Chief Executive Officer Brad Gordon said in a phone interview from London on Friday. "We continue to offer our employees for interview."
Deo Mwanyika, listed on Acacia's website as the company's vice president of corporate affairs, was picked up by secret-service agents on July 12 at the airport in the southwestern town of Mbeya, two people familiar with what happened said. He was interrogated and returned to his home in Dar es Salaam, the commercial capital, a day later, they said.
Mwanyika was at least initially monitored at his house and has been interrogated since his initial detention. The people, familiar with the company in London, asked not to be identified as the incident hasn't been made public.
Airport Detention
On Thursday, Alex Lugendo, an adviser on government relations at Acacia, was detained at the airport in Dar es Salaam when he arrived back from a trip to Australia, according to one of the people.
Attempts to contact Mwanyika were unsuccessful, while Lugendo declined to comment when reached by phone on Friday. Acacia declined to comment further on the matter.
Gerson Msigwa, the director for presidential communication in Tanzania, couldn't immediately be reached for comment. Industry, Trade and Investment Minister Charles Mwijage, who tabled the Energy & Minerals Ministry's budget last month after the mines minister was fired, didn't answer two calls to his mobile phone seeking comment. Minister of Justice and Constitutional Affairs Palamagamba Kabudi, who led effort to pass Tanzania's new mining laws, also didn't answer two calls to his mobile phone.
Mwanyika joined the company in 2010, having previously worked as a manager at Barrick Gold Corp. for more than a decade, including as executive general manager for Tanzania. Barrick owns 64 percent of London-based Acacia, which produces gold in Tanzania. Lugendo has worked for Barrick since at least October 2005, according to his Linked-In profile.
Andy Lloyd, a spokesman for Barrick, declined to comment.
Industry Overhaul
Magufuli is overhauling the country's natural-resources industry to try and ensure the government gets a greater share of revenue from its raw materials and help finance his plan to industrialize sub-Saharan Africa's sixth-biggest economy. The country plans transport and utilities projects worth at least $19 billion, according to PricewaterhouseCoopers LLP.
On Friday, Acacia said the dispute had depleted its cash balance to $176 million from $318 million. Even if it manages to keep its flagship Bulyanhulu mine open, full-year production will be at the lower end of its 850,000 to 900,000 ounce target, it said.
Acacia shares dropped as much as 21 percent, the biggest intraday decline since the export dispute worsened two months ago. The stock is down 56 percent in the past year. 
The combination of Acacia reiterating that Bulyanhulu may have to be shuttered and news that company officials have been detained is fanning concern that the dispute will drag on, according to Jeremy Sussman, an analyst with Clarksons Platou Securities Inc.  
"You put those two or three things together and it becomes about more than earnings and production guidance," Sussman said by telephone from New York
Barrick shares were down 1 percent at 10:28 a.m. in Toronto.
Talks Imminent
In May, Barrick said the issues in Tanzania could cut its companywide 2017 production by as much as 6 percent, equivalent to about 336,000 ounces. Barrick Executive Chairman John Thornton has met with the president in Tanzania, and the Toronto-based company will be involved in talks with the government that Gordon said will start imminently.
Although Acacia's second-quarter operating results are solid, the market focus will be on those negotiations "in light of recent commentary suggesting potential for further escalation," Andrew Breichmanas, an analyst with BMO Capital Markets, wrote in a research note Friday.
— With assistance by Thomas Biesheuvel, and Aoyon Ashraf
Before it's here, it's on the Bloomberg Terminal.
LEARN MORE