politics
Vince Cable Takes Over U.K.'s Anti-Brexit Liberal Democrats
By
Former business secretary, 74, was unopposed for leadership

Party is pushing for second referendum on 'exit from Brexit'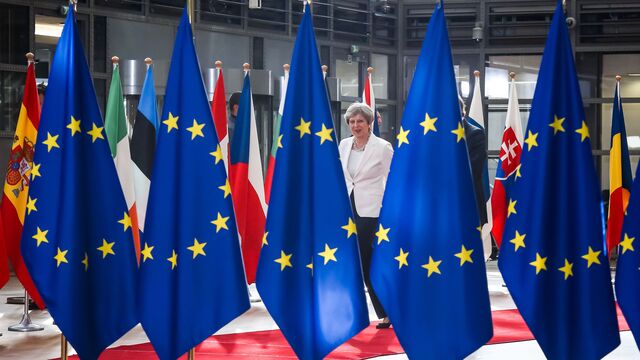 Former Business Secretary Vince Cable became the leader of the anti-Brexit Liberal Democrats on Thursday after no one else put themselves forward to replace Tim Farron, who resigned last month.
Cable, 74, becomes leader just over two years after the electorate ejected him from Parliament in the 2015 general election. He pledged to maintain the party's push for a second referendum on European Union membership once the U.K. has finished negotiating its divorce from the bloc.
"We need an exit from Brexit," Cable told reporters in central London after his unopposed election was announced. He said he fears a "disastrous outcome" from the EU divorce negotiations and will work "with like-minded people in other parties" to protect Britain's place in Europe.
The new leader faces a challenge to revive the party's fortunes after they suffered a near wipeout in 2015, losing all but eight of their 57 seats in the 650-seat House of Commons. They clawed back four districts in last month's election, but their share of the vote edged slightly lower to 7.8 percent.
Dancing 74-Year-Old Offers Brits Hope That Brexit Is Reversible
The veteran politician served as business secretary in David Cameron's coalition government between 2010 and 2015 and was a critic of excessive pay and bankers' bonuses. He sat in cabinet with current Prime Minister Theresa May and said he enjoyed "perfectly polite if somewhat distant" relations with her, characterized by "fundamental disagreements" on immigration.
Prior to that, he'd earned a reputation as an economic forecaster when he warned of signs of the coming global financial crisis in the U.K. economy. As early as November 2003, Cable flagged the "brutal truth" that U.K. growth was being sustained by consumer spending "pinned against record levels of personal debt."
After winning back his Twickenham seat in southwest London last month, Cable threw his hat into the leadership contest triggered by Farron's resignation. His chances were boosted when Ed Davey, Jo Swinson and Norman Lamb, all former ministers and potential contenders, ruled themselves out. Swinson is now the party's deputy leader.
(
Updates with Cable in third paragraph.
)
Before it's here, it's on the Bloomberg Terminal.
LEARN MORE