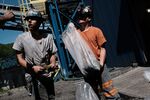 West Virginia is so strongly associated with coal that the state flag features a miner with pickax over his shoulder.
A nurse with a stethoscope might be more fitting.
Last year, WVU Medicine, a network of hospitals under the state's flagship public university, dethroned Wal-Mart Stores Inc. as the top employer. What's more, six out of the top 10 employers in the state were hospitals and health-care providers. Murray American Energy Inc., a large coal company operating in the region, dropped to 15th place from sixth.
That same story is told another way with labor-market data. Mining jobs in the state fell by 25 percent between 2012 and 2016. At the same time, West Virginia health-care jobs have been mushrooming, and account for one of every five private-sector positions in the state, according to the West Virginia Center on Budget and Policy, a research group.

One might assume that job growth in health care is cushioning the blow from coal mining, right? For now, that isn't happening.

West Virginia overwhelmingly voted in last year's election for President Donald Trump, who has pledged to cut regulation to reawaken the coal industry and overhaul health care by dismantling Obamacare. The signals from Washington could factor into miners' decisions to retrain for another profession, outside of healthcare, or hold tight for the promised coal revival.
The United Mine Workers of America, the nation's principal coal-mining union, sponsors career training in the state for laid-off workers. Since 2012, the UMWA has enrolled more than 2,000 West Virginians, according to Brett Dillon, a program manager. Only about 200 of those people opted for medical training, Dillon said. Most elected to go through training to become truck drivers.
There's an economic reason for this. Training for a commercial driver's license takes four weeks, which means that laid-off miners can return to work as quickly as possible, which is an important consideration when unemployment benefits run out after 26 weeks, Dillon said. Training to become a surgical technologist takes close to a year.

But there's a cultural dimension as well, according to Nick Mullins, a coal miner-turned-blogger and author of the Thoughtful Coal Miner, a website dedicated to understanding the difficulties for coal miners and their families.
Mullins said he had been sometimes teased for working as an electrician underground because the job was easier and paid more than running coal. "There's a pride and a heritage and a lot of gender roles and stereotypes surrounding the coal industry," he said.

Another consideration: Some coal-mining jobs, including roof-bolting or mining operators, pay more than many health-care jobs such as drawing blood as a phlebotomist or being a surgical tech. Both programs are offered at the UMWA training center.
The coal business, like a lot of commodity industries, operates in a boom-and-bust cycle. Laid-off miners sometimes think it's worth the gamble of waiting around for the industry to recover because the salaries are so generous, according to Mullins.
Brandon Barbero lives in the town of Beckley, West Virginia, which counts a coal mine exhibition among the city's attractions. In 2014, he was let go after six years of working in the mines. He and his wife Laney went back to school to become surgical technicians and were able to stay in their hometown. For Barbero, it was a good career move.
"Anybody I've talked to has commended me," he said. "I wish that more laid-off coal miners'' would take advantage  of the re-training.
Before it's here, it's on the Bloomberg Terminal.
LEARN MORE