politics
Republicans Move to Kill a Rule That Makes It Easier to Sue Banks
By
Forced arbitration measure targeted by House, Senate lawmakers

Congressional Review Act requires simple majority to overturn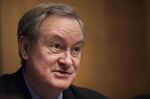 Congressional Republicans have formally started the process to reverse a Consumer Financial Protection Bureau rule that makes it easier for customers to sue lenders, taking a pivotal step in the broader effort to roll back Obama-era bank regulations.
Lawmakers led by Senate Banking Committee Chairman Mike Crapo and House Financial Services Chairman Jeb Hensarling introduced legislation Thursday that would enable them to overturn the CFPB's forced-arbitration rule with simple majority votes in both chambers.
The CFPB rule, released July 10, would restrict a practice that has been used by the industry for years to keep grievances tied to credit cards, payday loans and other products out of courts. It was published in the Federal Register on July 19, and is slated to take effect in March.
"Members of Congress previously expressed concerns with the proposed version of the rulemaking -- concerns that were not addressed in the final rule," Crapo said in a statement, citing a "flawed study" said to be the basis of the CFPB measure. "Given the problems with the study and the bureau's failure to address significant concerns, it is not only appropriate but incumbent on Congress to vote to overturn this rule."
The Republicans are turning to the Congressional Review Act, a relatively obscure law that enables them to undo regulations within 60 legislative days from when they are published in the Federal Register. The procedure will free the Republicans, who have majorities in both Houses, from having to meet the 60-vote threshold often needed for major Senate bills. That means they won't need Democratic votes to pass it.
No Guarantee
Still, there's no guarantee that the bill will pass. Several obstacles lie ahead as the Senate remains bogged down with the president's call for undoing Obamacare and advancing his picks to run key agencies. And because the banking industry strongly opposes the CFPB rule, lawmakers backing the move to overturn it could be accused by Democrats of doing Wall Street's bidding.
Republican lawmakers and banks oppose restrictions on arbitration, arguing that it leads to better outcomes for consumers than litigation, and that much of the money won through lawsuits goes to trial lawyers. Democrats and consumer advocates say mandatory arbitration prevents consumers from getting their day in court and lets financial companies cheat customers without being held accountable.
Passing legislation is one strategy the Trump administration may use to undermine the CFPB's rule. The Dodd-Frank Act also allows a regulator to petition the Financial Stability Oversight Council -- a panel of regulators led by the Treasury secretary -- to set aside any CFPB rule if there's evidence it puts the financial system's overall safety at risk. The acting Comptroller of the Currency, Keith Noreika, has taken steps to use those powers to delay the rule. It's also possible that industry groups will sue to overturn the rule. 
Before it's here, it's on the Bloomberg Terminal.
LEARN MORE