Politics
Islamic State Is Dying on the Battlefield—and Winning on the Internet
The war against the terror group's ideology will have to be waged for years.
By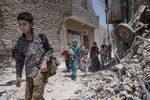 After Iraqi forces reclaimed control of Mosul, the country's second-largest city, on July 10, Iraq Prime Minister Haider al-Abadi declared "total victory" over Islamic State. The American commander of the global ­coalition to defeat the group, U.S. Army Lieutenant General Stephen Townsend, said the loss of Mosul had dealt a ­"decisive blow" to the terrorist organization. With U.S.-backed Kurdish and Arab fighters preparing to capture Raqqa, the terrorists' stronghold in Syria, President Donald Trump predicted "the total destruction of ISIS."
Three years since the insurgent group declared the establishment of an "Islamic caliphate" straddling Iraq and Syria, it faces military defeat. Islamic State no longer possesses a base of operations from which to coordinate sophisticated attacks. The group's estimated annual revenue has plummeted, from almost $2 billion in 2014 to less than $870 million in 2016.
Yet as Islamic State evolves from a self-governing quasi-­state to a networked global insurgency, "the threat of ISIS-inspired attacks may grow, including on Western targets such as the United States," according to a July 18 report, "Countering ISIS and Its Effects," by the U.S. Government Accountability Office. The more territory it loses, the more it will use online platforms to inspire followers to carry out violence in their home countries. "Their narrative isn't going away," says Joshua Geltzer, a former senior director for counterterrorism at the National Security Council. "On the messaging front, they will adapt or stay one step ahead."
At its peak, Islamic State commanded an army of 40,000 foreign fighters (including 6,000 from Europe) in Iraq and Syria. Much of that cadre was killed during the fight for Mosul, according to Martin Reardon, senior vice president for the Soufan Group, a private intelligence firm staffed by former senior U.S. and European intelligence officials. The ferocity of the fighting forced much of the civilian population to flee the city. The remaining Islamic State militants, who number in the thousands, "are not just going to say the war is over and then have kids and settle down on the farm," says Reardon. He expects hardened fighters to slip back into Iraq's vast and dispossessed Sunni heartland, where they will find climes genial enough to maintain their online media operations, rebuild, and reemerge at the right moment.
The military campaign has damaged the group's ability to generate propaganda. An analysis by the West Point Combating Terrorism Center found that the number of Islamic State-produced "visual media products"—videos, illustrated reports, and photos embedded in Twitter posts—declined by 75 percent from August 2015 to September 2016. Technology companies have also begun to police their platforms more aggressively, in part because of pressure from European regulators to combat hate speech. Facebook Inc., for instance, now has 150 ­employees working full-time on identifying and removing terrorist content in more than 30 languages. It also has partnered with Google Inc., Twitter Inc., and other companies to create a database of "digital fingerprints" that can identify accounts linked to terrorists.
The problem is they're often chasing ghosts. Islamic State operatives are adept at creating social media accounts that remain dormant, and undetectable, until the moment they're activated. Jihadists forced off Twitter and Facebook turn increasingly to encrypted platforms such as Telegram and WhatsApp. While that may reduce the size of their audience, it makes them more difficult for intelligence agencies to track. Large-scale operations to remove terrorist postings have yielded limited results. Last year, Operation Glowing Symphony, conducted by the National Security Agency and U.S. Cyber Command, managed to wipe out troves of Islamic State videos and social media handles—only to have most of the content reappear within days. "There are no silver bullets," says Brian Fishman, Facebook's head of counterterrorism policy. "Even as we're developing new capabilities to keep our platform safe, terrorist groups are watching and taking countermeasures. We're up against an adversary that's smart, dedicated, and focused."
During the Obama administration, the U.S. sought to increase the influence of credible, mainstream voices in Muslim societies—through initiatives such as the Sawab Center, an Abu Dhabi-based hub that produces social media content that challenges the Islamic State narrative. But plans to expand that model to other countries, such as Malaysia, have stalled, U.S. officials say. During his visit to Riyadh in May, Trump hailed the creation of the Saudi-run Global Center for Combating Extremist Ideology, which administration officials hope will become the linchpin of ­counterterrorist messaging in the Arab world.
Whether the Saudis use the center to target Islamic State or the kingdom's geopolitical rivals, Iran and Qatar, remains to be seen. Sami Nader, head of the Beirut-based Levant Institute for Strategic Affairs, says Trump's efforts to push governments in the region to take the lead in fighting terrorist propaganda was "a step in the right direction. But it was more geared toward fighting terrorism in general instead of dealing with the post-Islamic State situation."
Terrorism experts say countermessaging also needs to be integrated with programs that address the process of radicalization, which still takes place largely offline—in gyms, schools, prisons, and mosques. The Strong Cities Network, a consortium of mayors and community leaders from 200 cities around the world, illustrates the role of local institutions in developing counterradicalization policies. The Trump administration, however, has taken a dim view of community-­based efforts, which went by the label "countering violent extremism" (CVE) under the Obama administration. The White House's 2018 budget would eliminate the Department of Homeland Security's $50 million budget for CVE programs. In its July 18 report, the Government Accountability Office concluded that "the federal government does not have a cohesive strategy or process for assessing the countering violent extremism effort."
The U.S.-led military campaign against Islamic State may be nearing a climax, but defeating the terrorists' ideology will require a wider set of policy tools. "We've focused far too much on the military piece and not enough on finding a holistic solution to why people seek out this ideology," says Farah Pandith, an adjunct senior fellow at the Council on Foreign Relations. "We're solving the problem of today and not thinking enough about what it's going to look like tomorrow."
In a recent published interview, the head of strategic operational planning for the U.S. National Counterterrorism Center, U.S. Marine Corps Lieutenant General Michael Nagata, echoed that assessment. "Terrorism in its various forms is not just 'here to stay,' " he said, "but is going to continually adapt and seek growth in ways that we probably cannot completely anticipate or predict." —With Cam Simpson and Donna Abu-Nasr
BOTTOM LINE -
The military operation against Islamic State may be coming to a close, but the battle against the terrorist group's ideology will have to be waged for years.
Before it's here, it's on the Bloomberg Terminal.
LEARN MORE