Deutsche Bank Preparing for Hard Brexit, CEO Cryan Tells Employees
By , , and
'Vast majority' of assets to be booked in Germany, he says

CEO says roles will need to be moved or added in Frankfurt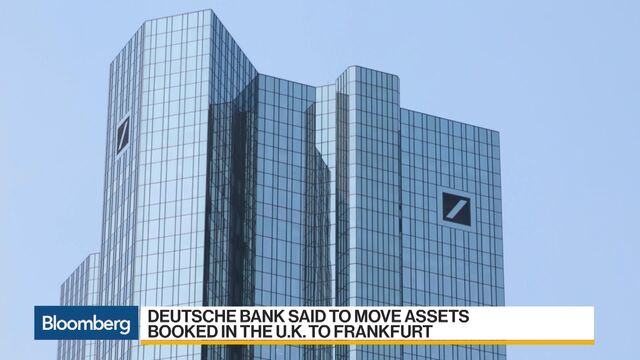 Deutsche Bank AG is girding for a hard Brexit, with plans to book the "vast majority" of its trades in Frankfurt, Chief Executive Officer John Cryan said in a videotaped message to its 98,000 employees.
"There's an awful lot of detail to be ironed out and agreed, depending on what the rules and regulations turn out to be," Cryan said in the video. "We will try to minimize disruption for our clients and for our own people, but inevitably roles will need to be either moved or at least added in Frankfurt."

A year after Britons voted to pull out of the European Union, banks are starting to prepare employees for the repercussions, which may include moving some London operations. The turmoil around Brexit dovetails with Cryan's desire to concentrate more business at Deutsche Bank's base in Frankfurt, Germany's financial hub.
The CEO said that the bank can't afford to postpone decisions on Brexit pending the outcome of negotiations on Britain's future relationship with the EU. Although Deutsche Bank won't need to set up a new subsidiary on the continent -- unlike some U.S. and U.K. rivals -- it is still likely Brexit "will impact us significantly," he said.
Frankfurt Focus
The video was recently posted on the bank's intranet and shows Cryan being interviewed by the chief of communications, Joerg Eigendorf, according to people familiar with the matter who asked not to be identified. A spokeswoman for the bank, Monika Schaller, declined to comment.
Deutsche Bank intends to move big chunks of trading and investment-banking assets currently booked in London to Frankfurt, people told Bloomberg News this month. The jobs of several hundred traders and as many as 20,000 client accounts will likely be shifted, one person said.
Frankfurt has emerged as a winner of the Brexit vote, with Standard Chartered Plc, Nomura Holdings Inc., Sumitomo Mitsui Financial Group Inc. and Daiwa Securities Group Inc. all choosing the city as their EU hub in recent weeks. Morgan Stanley and Citigroup Inc. also have settled on Frankfurt for their European trading headquarters, people with knowledge of their plans have said.
Citigroup may hire 150 more people in the European Union, Jim Cowles, head of Europe, the Middle East and Africa, said in a memo to staff Thursday. It already employs 350 in Frankfurt.
Banks have struggled to quantify Brexit risks to their business because so many unknowns surround Britain's break with the EU. A major threat is the loss of their right to sell products and services in the EU from Britain -- the so-called hard Brexit scenario.
Worst Outcome
One of the biggest questions for investment banks is where to book trades. Cryan said a big share of its assets are recorded in its London branch for convenience. While that need not completely change, Deutsche "will probably book the vast majority of that in the future in Frankfurt."
Clients shouldn't mind and traders would still be able to take orders and record them in London or in New York, he said. Deutsche Bank is setting up a structure in Frankfurt that duplicates its system in London so that both cities could be used interchangeably during the transition to Britain's new status. 
That squares with Cryan's new goal of reorganizing the investment bank to emphasize its corporate business in its home market. A hard Brexit scenario might require Deutsche Bank to turn its London branch into a subsidiary -- and that would require capital to cover potential losses.
Yet Brexit isn't necessarily a disaster for London, said Cryan, who is British. It could even be a source of new business for banks, because clients are seeking advice on what to expect, he said, citing the case of where to buy bonds issued by European governments.
"We will assume a reasonable worst outcome," rather than a worst case, Cryan said. "The worst is always likely to be worse than people can imagine."
Before it's here, it's on the Bloomberg Terminal.
LEARN MORE