Brexit Talks End With Disagreement on Money, Rights and Ireland
By and
Barnier says EU wants ECJ to protect citizens in U.K.

Davis says two sides understand each other's positions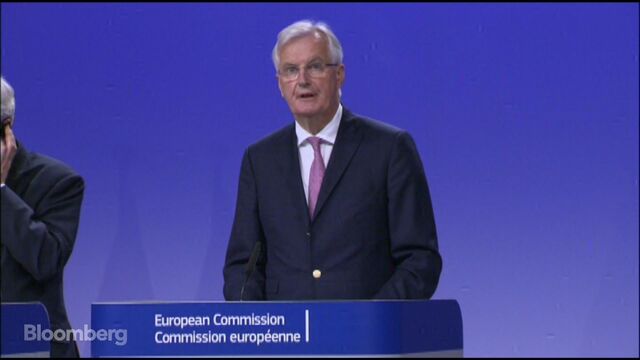 Follow @Brexit for all the latest news, and sign up to our daily Brexit Bulletin newsletter.
European Union negotiator Michel Barnier gave no ground in the second round of Brexit talks and told the U.K. to come back next month with more detail, brushing off David Davis' suggestion that flexibility was needed on both sides.
"The first round was about organization, the second round about presentation, the third round must be about clarification," Barnier told reporters in Brussels on Thursday.
As banks prepare their exodus from London and companies invest in contingency plans for a messy split, four days of negotiations in the Belgian capital yielded little. Major sticking points such as the role of the European Court of Justice -- a taboo for British Brexit-backers -- remain firmly in place, even as Davis agreed with Barnier that the "clock is ticking."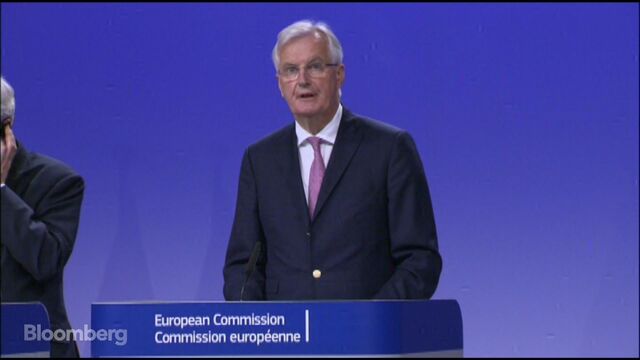 "I'm encouraged with the progress we've made in understanding each other's positions," Davis said. "Getting to a solution will require flexibility on both sides."
Britain risks tumbling out of the bloc in March 2019 without a deal -- a scenario that businesses consider catastrophic even as some members of Prime Minister Theresa May's increasingly divided government say is manageable.
Read more: Deutsche Bank Preparing for Hard Brexit, Cryan Tells Staff
The U.K. can't begin talks on a free-trade agreement until EU leaders decide -- at a summit in October at the earliest -- that "sufficient progress" has been made on issues such as the exit bill. French Finance Minister Bruno Le Maire put the bill at 100 billion euros ($115 billion) late on Wednesday, as he evoked former Prime Minister Margaret Thatcher's famously bellicose approach to Europe with the line "we want our money back."
The U.K. will prioritize the financial settlement in the next round, May's spokeswoman said on Thursday. Davis said today that both sides recognize "the importance of sorting out the obligations we have to one another."

No Concessions Yet
Barnier indicated the moment hadn't yet arrived for him to make concessions.
"The U.K. decided to leave the EU," he said. "That's a serious decision, a serious matter with serious and grave consequences. We take it seriously. I know one has to compromise in negotiations but we are not there yet."
Looking ahead to the next round of talks in the last week of August, he set out the main areas where he wants more detail from the U.K.:
How European nationals living in the U.K. will be protected after Brexit, insisting that the European Court of Justice should have jurisdiction. 
A detailed legal analysis of what Britain will pay to leave.
How to maintain the current border between Northern Ireland and the Republic of Ireland.
The U.K. also came away with questions about the EU position as new differences on citizens' rights emerged. U.K. officials still "have doubts" about the EU's plans and their commitment to protecting the rights of U.K. citizens' living in Europe, according to a person close to the negotiations. The U.K. considers it has put a serious offer on the table, but there are "significant gaps" in the EU's offer.
Read more: Unilever Chief Seeks Brexit Balm as May Reaches Out to Business
Up until now, it's been the EU that's criticized the U.K.'s stance, claiming it would lower European citizens' rights. Barnier himself has said any agreement should ensure people "continue to live their lives as they do today."
The U.K. is concerned that the EU wants only to offer rights to British citizens where they live now, curtailing their ability to move to another EU country. The EU signaled after the talks that it would be prepared to discuss the issue as long as the U.K. continued to give EU citizens the freedom to move to Europe and then back to the U.K.
The U.K.'s ability to deny residency to EU citizens who move to Britain before Brexit if they have committed a criminal offense, has also become a difficult area, with Britain's ambition of carrying out "systematic checks" on everybody that applies for residency, alarming the EU side.
The U.K. said it will continue to apply European law until Brexit, meaning that some European citizens will be allowed to stay even if they have committed an offense.
The U.K. is also concerned that British holidaymakers and visitors won't have easy access to European healthcare after Brexit and that "posted workers" who are sent to work in the U.K. by an EU-based company aren't covered by the agreement. By contrast, the U.K. has allayed EU worries over protecting EU citizens' voting rights and the rights of "frontier workers" who don't live in Britain but commute to work there.
— With assistance by Robert Hutton
Before it's here, it's on the Bloomberg Terminal.
LEARN MORE