BOJ Keeps Rates Unchanged, Postpones 2% Inflation Deadline
By
It's the sixth time Kuroda has had to delay CPI timeline

Growth outlook improves even as price trend disappoints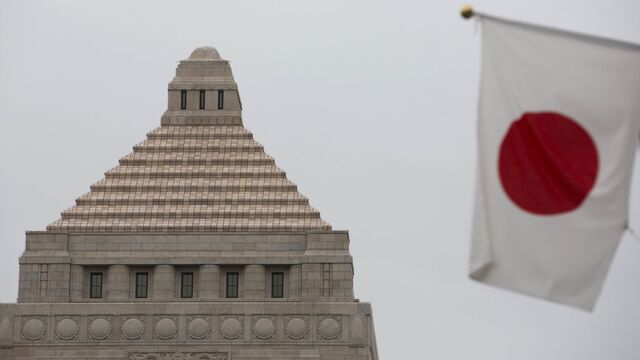 The Bank of Japan kept its monetary stimulus program unchanged even as it pushed back the projected timing for reaching 2 percent inflation for a sixth time.
The downgraded price outlook will raise more questions about the sustainability of the BOJ's stimulus at time when other major central banks are turning toward normalizing their monetary policy. The European Central Bank, which is said to examine options for winding down quantitative easing, concludes its own governing council meeting later on Thursday.
By again delaying the timing for hitting its price goal, the BOJ acknowledged the need to continue easing for at least several more years, probably beyond 2020 because of a sales-tax increase scheduled for late 2019, said Hiromichi Shirakawa, chief Japan economist at Credit Suisse Group AG and a former BOJ official.
"Going forward, there will be even more attention on the sustainability of the stimulus from market participants and lawmakers," Shirawaka said.
BOJ Governor Haruhiko Kuroda said it was regrettable the central bank needed to push back its inflation goal again, saying it hadn't intentionally made its forecasts too optimistic. He noted that central banks in the U.S. and Europe had also overestimated inflation.
"I don't think people will lose trust in BOJ just because our forecasts were missed," Kuroda said during a news conference.
Masaaki Kanno, chief economist at Sony Financial Holdings Inc. and a former BOJ official, warned that the central bank risks drying up the market for Japanese government bonds before reaching its price goal.
"Four years have passed and there is no sign the inflation rate is rising," Kanno said on Bloomberg TV.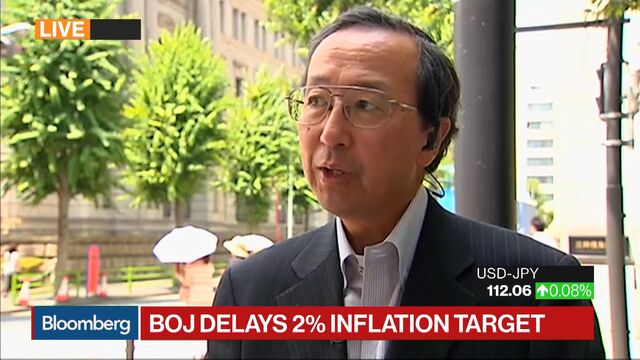 The BOJ pledged to maintain its yield-curve control program and asset purchases, a result predicted by all 43 economists surveyed by Bloomberg. It now expects to hit its 2 percent inflation target around the fiscal year starting in April 2019, a year later than a previous projection. It also cut its price estimates for the current and next fiscal years.
The central bank raised its growth forecasts slightly for this year and next, but noted in its policy statement that the risks to inflation and growth are skewed to the downside.

The BOJ is under pressure to explain when, and under what conditions, it might begin an exit. Its asset buying, mainly of Japanese government bonds, has swelled its balance sheet to nearly the same size as Japan's economy. Some BOJ officials are increasingly concerned about the sustainability of its purchases of exchange-traded funds, according to people familiar with the matter.
Other central banks are well ahead of it. The ECB could make a decision on options for winding down stimulus this autumn, according to euro-area officials familiar with the matter. Federal Reserve Chair Janet Yellen said last week that the Fed should begin shrinking its balance sheet "relatively soon," while the Bank of Canada has raised rates for the first time in seven years.
Kuroda aimed to achieve 2 percent inflation in about two years when he launched unprecedented stimulus in April 2013. He has acknowledged the stickiness of Japan's "deflationary mindset," as services from convenience stores to restaurants cut business hours instead of securing the workers they need by raising pay.
The latest fiscal year forecasts from the BOJ are:
2017 core inflation of 1.1%; down from previous forecast of 1.4%
2018 core inflation of 1.5%; down from previous forecast of 1.7%
2019 core inflation of 1.8%; down from previous forecast of 1.9%
2017 gross domestic product of 1.8%; up from previous forecast of 1.6%
2018 gross domestic product of 1.4%; up from previous forecast of 1.3%
2019 gross domestic product of 0.7%; unchanged from previous forecast
— With assistance by Yoshiaki Nohara, Keiko Ujikane, Andy Sharp, Connor Cislo, Kazunori Takada, Gearoid Reidy, Go Onomitsu, Chris Anstey, Shoko Oda, Maiko Takahashi, Kyoko Shimodoi, Takashi Nakamichi, Kenshiro Okimoto, Hiroyuki Nakagawa, Masahiro Hidaka, Junko Hayashi, Hiroshi Miyazaki, Takashi Hirokawa, and Takashi Amano
Before it's here, it's on the Bloomberg Terminal.
LEARN MORE