Abe's Low-Key Foreign Minister Watched as Potential Rival
By and
Slumping cabinet support provides opening for potential rivals

Kishida mentor tells him not to 'hit a drowning dog'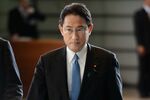 A self-effacing former banker, Japanese Foreign Minister Fumio Kishida isn't known for courting publicity in a way that comes naturally to most politicians.
So when he appeared this month with a comedian clad in clashing animal prints to promote a United Nations program, Japanese media outlets splashed the photos across newspapers and websites. The display also added to speculation that the normally low-key Kishida might be gearing up for a run to replace his increasingly unpopular boss, Prime Minister Shinzo Abe.

"Kishida has always been quiet and had a princely air," said Takeshi Iwaya, a fellow lawmaker with the ruling Liberal Democratic Party and a friend since the two were students together at Tokyo's Waseda University. "He tends to listen to others rather than put his own views forward. But if he's looking to take over, I think he needs to make his presence felt a bit more."
Abe's popularity has plummeted in recent months after allegations of cronyism surfaced, opening the door for rivals in the LDP to consider challenging him in a leadership race set for late 2018, unless he resigns before then. If he's defeated, it's unclear whether his successor will pursue his economic agenda of unprecedented monetary easing, limited fiscal consolidation and deregulation.
One clue may come in a cabinet reshuffle expected in the next few weeks. Kyodo reported earlier this month that Kishida asked to leave. If he's excluded from the new line-up, he'll be in a position to run against Abe, who until recently was likely to become Japan's longest-serving prime minister. However a Nikkei report Friday said he would stay on in his current role after a two-hour meeting with Abe the previous night.
Read more on the decline in Abe's support rate
Other potential contenders include former Defense Minister Shigeru Ishiba, 60, who left Abe's cabinet last year, and has recently criticized his former boss over plans to change the country's pacifist constitution by 2020. Finance Minister Taro Aso has also expanded his own LDP faction, although he has said he will continue to support the premier.

Kishida has avoided media interviews and stuck rigidly to Abe's script since taking up his current post in 2012. In a Nikkei newspaper poll in March that asked respondents to select the most suitable successor to Abe, Kishida came seventh with less than five percent of the vote.
Still, local media has speculated that his clean image combined with the backing of his dovish LDP faction could propel him into the leader's seat. With the opposition in disarray, that would most likely make him prime minister.
Kishida signaled in April that he was ready to take the reins from Abe.
"However wonderful a leader Prime Minister Abe may be, the Abe era will come to an end at some time," Kishida said in a speech at an event held by his party's faction. "We have to start thinking now about what we need to do."
Policy Differences
Abe, who was present at the event, responded by asking him to be patient and support him for a little longer.
Kishida has distanced himself from Abe, particularly on his controversial proposal to change Japan's pacifist constitution. In a July 4 speech to his faction, Kishida emphasized the need to tackle income disparity and made an oblique criticism of the current government's fiscal policy.
"Our economy, finances and social security are all based on the premise that the population and the economy will grow," he said. "That presumption is falling apart and we are facing a crisis of sustainability."
As representative of a Hiroshima constituency, Kishida can claim credit for helping to arrange then-President Barack Obama's visit last year to the site of the U.S. nuclear attack on the city -- an act of reconciliation that was widely welcomed by Japanese voters. He was also praised for helping push through a 2015 agreement intended to end a long-running dispute with South Korea over Japan's colonial-era mistreatment of women, although new President Moon Jae-in has since questioned that deal.
Drowning Dog
"He's not good about showing off what he has achieved," said Masao Hayashi, the secretary general of the Hiroshima branch of the LDP, who has been close to the family since Kishida's father was a lawmaker. "That can be a bit frustrating, but it also makes him easy to get along with."
Kishida's website gives almost no personal information, other than to mention a wife and three sons. His entry in a directory of Japanese lawmakers lists his only hobby as "physical training."
The final decision on whether Kishida runs next year could depend on Makoto Koga, his predecessor as faction head. Now retired as a lawmaker, the former party secretary general continues to serve as an adviser to the group.
"He's serious, he's humble," Koga said in an interview this week. "That was a big reason why I picked him out to take over from me. His qualities as a human being."
While Koga said he expected plenty of opportunities for Kishida in the future, he emphasized that now isn't the time to challenge Abe. Support for the cabinet has fallen below 30 percent in some recent media polls, a level Koga said was "in the danger zone."
"When a dog's drowning in the river, don't hit it with a stick," Koga said. "I won't allow it. Now is the time for patience and redoubled efforts. It's the time to offer support."
— With assistance by Emi Nobuhiro, and Yuki Hagiwara
Before it's here, it's on the Bloomberg Terminal.
LEARN MORE