Your Evening Briefing
Here are today's top stories
Bloomberg News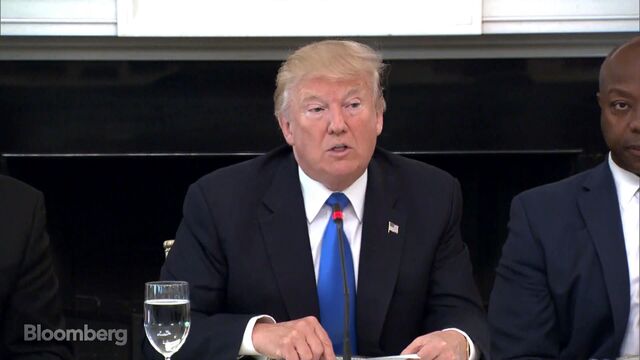 Want to receive this post in your inbox every afternoon? Sign up here.
So much for a summer vacation. During a lunch at the White House on Wednesday, Trump demanded that Republican senators stay in town until a health-care bill was on his desk. The president is still reeling from the latest GOP failure to repeal the Affordable Care Act, but did an about face on his plan from Tuesday, when he declared, "We'll let Obamacare fail."—Katie Robertson
Health care collapse could leave Trump winless in his first year. President Trump is now more likely than ever to end his first year in office without a single major legislative accomplishment. Between now and the end of the year, Congress still has to approve more than $1 trillion in federal spending, pass a veterans health-care bill and navigate a debt-ceiling fight. That doesn't leave much time for legislating.
Supreme Court rejects the reach of Trump's travel ban. The three-sentence order by the justices, who last month let the president start restricting entry by people from six mostly Muslim countries, means the government must accept people with grandparents, cousins and other relatives in the U.S. The court plans to hear arguments on the travel ban on Oct. 10; the latest scuffle centered on the rules that will apply in the interim.

Wall Street's efforts to improve its image haven't worked. Most Americans hold unfavorable views of banks and corporate executives, and distrust billionaires more than they admire them, according to the latest Bloomberg National Poll. The Fed, meanwhile, improved its standing in the poll as the economy strengthened in recent years.
The man who got America to eat trash fish is now a billionaire. Chuck Bundrant, the founder and majority owner of Trident Seafoods, turned $80 into more than $1 billion by persuading people in the early 1980s to eat pollock at fast-food restaurants. Trident still ships the fish – along with salmon and cod - to supermarket chains.
How to beat your student debt collector. Creditors generally can't come after you unless they can prove you owe them money. Hiring an attorney can, in certain cases, get massively indebted borrowers out from under hundreds of thousands of dollars in loans.
Americans' retirement benefits have been slashed. Employer contributions to pensions, 401(k)s and retiree health-care benefits fell from 9.1 percent of worker pay in 2001 to 6.8 percent in 2015. A global retirement security ranking has demoted the U.S. three notches to No. 17 among 43 developed countries.
The mad cheese scientists fighting to save the dairy industry. Americans eat 35 pounds of cheese per year on average—and that demand doesn't come close to meeting U.S. supply. Amid an historic glut, a secretive, government-sponsored entity is squeezing as much milk, cheese, butter and yogurt as it can into food sold both at home and abroad.

Before it's here, it's on the Bloomberg Terminal.
LEARN MORE