Wanda's $9.4 Billion Deal Gets a Late Twist
Bloomberg News
Guangzhou developer replaces Sunac as buyer of hotels

Loan that Wanda was going to arrange for Sunac scrapped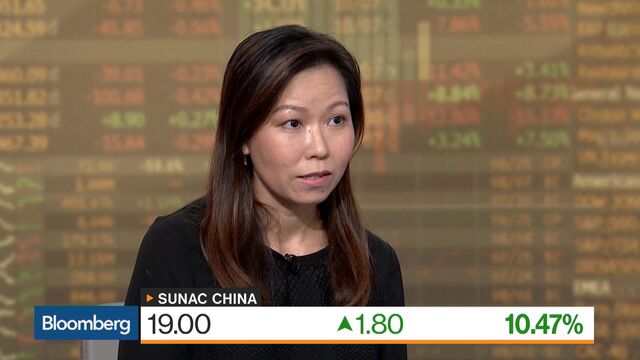 Start your day with what's moving markets in Asia. Sign up here to receive our newsletter.
In a last-minute twist to China's largest property deal, Guangzhou R&F Properties Co. stepped in to buy some of the hotel assets that Dalian Wanda Group Co. planned to sell to rival developer Sunac China Holdings Ltd.
R&F, one of the nation's top 20 developers by contracted sales, will pay 19.9 billion yuan ($2.9 billion) for the hotels and Sunac will pay 43.8 billion yuan for a 91 percent stake in Wanda's tourism and theme-park projects, the companies said in a statement late Wednesday. The new deal means Wanda won't need to help finance Sunac's purchase, Wanda said.

The transaction took an unexpected turn after Wanda, led by billionaire Wang Jianlin, came under regulatory pressure over how it financed an acquisition spree across the globe. Sunac, meanwhile, has emerged as one of China's most indebted developers, and needed help with financing from Wanda to complete the original deal, which would have cost it $9.3 billion.
Investors welcomed the new terms for the deal. Sunac shares jumped as much as 16 percent in Hong Kong and R&F gained as much as 13 percent. Wanda Hotel Development Co. had a 14 percent jump despite last week saying a property deal by its parent would not directly affect it. Wanda Properties International Co.'s $600 million 2024 bonds rose 1.9 cents on the dollar to 98.7 cents, the biggest jump in about a month, according to Bloomberg-compiled prices.
For Wanda, the latest deal amounts to a 63.7 billion yuan sale in total, slightly above the agreement with Sunac announced on July 10, and relieves Wanda from needing to make a 29.6 billion yuan loan to Sunac. The three parties agreed to strategic cooperation in the cultural and movie industries. For the Wanda City theme-park projects, Wanda's brand will remain.
Higher Price
Sunac will pay 48 percent more for its portion of the tourism assets than in the original deal, while R&F pays 41 percent less for 77 Wanda hotels than Sunac was to have paid for 76 hotels, according to Wednesday's statement and the previous deal terms.
"All three companies are winners from this deal," Wang said in the statement, adding that "Wanda is for sure a winner. Through this transaction, Wanda will receive a load of cash and reduce debt significantly." The revised plan aids Sunac's liquidity and gearing, Sunac's Chairman Sun Hongbin said, adding that the extra 14.3 billion yuan to be paid for the tourism assets was an "acceptable premium." Sunac takes on 45.4 billion yuan of debt associated with the tourism assets.
The pressure on Wanda and Sunac includes plans by China's government to cut some funding for Wanda after the firm breached restrictions on overseas investments, people familiar with the matter have said. Credit-rating companies have flagged concerns on Sunac's rapid acquisition-driven expansion and Chinese media reported that domestic banks were reviewing Sunac's debt risk.
Credit Risks
Media reports that Chinese lenders were reviewing Sunac's credit risks prompted the firm's bonds and shares to plunge on Tuesday. Sunac's Sun said in a Chinese media interview this week that the banks' actions were "normal" and most banks that the firm had talked with were supportive.
Dalian Wanda Commercial Properties Co. will have 170 billion yuan in cash after the transaction and will pay off most of its bank loans, Wang said in a speech distributed by Wanda. He said that Wanda Commercial would have about 200 billion yuan of outstanding loans and bonds after the deal.
In an earlier arrangement, R&F formed a partnership with Wanda to develop 25 commercial complex projects from 2017 to 2021, according to R&F's website.
— With assistance by Prudence Ho, Emma Dong, Moxy Ying, Yan Zhang, Jacob Gu, and Lianting Tu
Before it's here, it's on the Bloomberg Terminal.
LEARN MORE