Turkish Report Exposes Locations of U.S. Troops in Syria
By and
Turkish state news agency published report, maps on July 18

U.S. partnership with Kurdish fighters there has angered Turks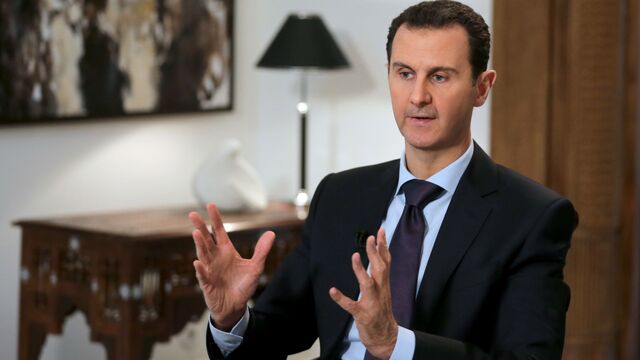 Turkey's state-run news agency published U.S. base locations in northern Syria, a move that threatens to deepen distrust between the two allies by exposing American soldiers on the front lines of the fight against Islamic State.
In reports published in both Turkish and English on Tuesday, Turkey's state-run Anadolu Agency provided detailed information about 10 U.S. bases in northern Syria, including troop counts and a map of the U.S. force presence in the Turkish version. The reports said that the military outposts are "usually hidden for security reasons, making it hard to be detected." It said they were located "in the terrorist PKK/PYD-held Syrian territories," a reference to Kurdish groups that Turkey's government considers terrorist organizations.
Despite a tight military alliance dating back to the Cold War, Turkey and the U.S. have been at odds for years now over the U.S. backing of Kurdish fighters in Syria who are affiliated with separatist movements inside Turkey. The Turkish government probably leaked U.S. troop locations to Anadolu as retaliation, according to Aaron Stein, a fellow at the Atlantic Council in Washington.
"The U.S. takes force protection seriously, obviously," Stein said by email on Wednesday. "The Turkish government knows this, and still decided to leak the locations of U.S. bases in Syria. Hard not to see this as a F-you."
'Unnecessary Risk'
The Pentagon said it had conveyed its concern to the Turkish government.
"While we cannot independently verify the sources that contributed to this story, we would be very concerned if officials from a NATO ally would purposefully endanger our forces by releasing sensitive information," Major Adrian J.T. Rankine-Galloway, a Defense Department spokesman, said in an emailed statement. "The release of sensitive military information exposes Coalition forces to unnecessary risk and has the potential to disrupt ongoing operations to defeat ISIS."
Levent Tok, an Anadolu Agency reporter on the story, said the information about U.S. troop positions wasn't leaked. The story was based on field work by Anadolu's Syria reporters and some of the information on bases had been broadcast on social media by Kurdish fighters, he told Bloomberg on Wednesday. "The U.S. should have thought about this before it cooperated with a terrorist organization," he said.
Base Building
Syria's civil war has drawn in several external powers, raising questions about their longer-term plans in the country now that Islamic State is in retreat. Construction of military bases is often taken as a clue. In recent days, Israeli officials have warned that they won't tolerate the establishment of permanent Iranian facilities, while Russia signed an accord that could keep its air bases in Syria for decades. Turkey is most worried about Kurdish-run enclaves in Syria's north; its national security council said a statement on Monday that it wouldn't allow a "terrorist state" on its borders.
News of the Anadolu story was published earlier on Wednesday by the Daily Beast, which also released correspondence with U.S. military officials urging the reporter, Roy Gutman, not to disseminate the information because they said it would expose sensitive tactical information and put coalition lives in jeopardy.
The incident is the latest to strain relations between Turkey and a major NATO ally. Last week, a senior Turkish official told Bloomberg that Turkey had agreed to purchase a missile defense system from Russia, a move that could jeopardize Turkey's relations with the Western security bloc. Germany is in the process of withdrawing from Turkey's most important NATO base, Incirlik, after Turkey repeatedly refused to allow German lawmakers to visit troops there.
— With assistance by Firat Kozok, Ben Holland, and Anthony Capaccio
Before it's here, it's on the Bloomberg Terminal.
LEARN MORE