Trump Touts Cruz Plan in Push to Revive Stalled Health Repeal
By
White House leans on HHS analysis showing low premiums in plan

Senators say they'll meet later Wednesday to weigh next steps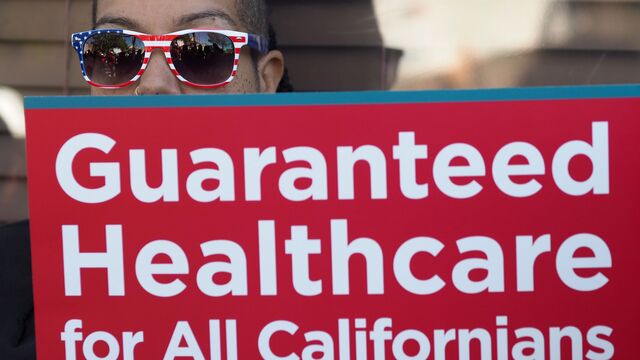 The Trump administration pressed its case to revive the Senate's stalled health overhaul using a rosy estimate of the effects of an amendment offered by Texas Senator Ted Cruz designed to win over wary conservatives.
The estimate said Cruz's proposed amendment to the Senate's Better Care Reconciliation Act would offer consumers cheaper plans and result in more people buying health insurance than under the status quo, according to a Department of Health & Human Services document obtained by the Washington Examiner. The plans would come with extremely high deductibles, according to the analysis, and might not cover some basic services.
President Donald Trump invited lawmakers to lunch on Wednesday at the White House in a bid to revive the repeal effort, after a second attempt to gather votes for the overhaul appeared to fail this week. Trump told senators they should remain in Washington until they repeal and replace the Affordable Care Act, known as Obamacare.
Senate Republicans are expected to meet this evening to see if their differences could be worked out, Tennessee Republican Bob Corker told reporters after the White House meeting.
Expert Skepticism
Experts were skeptical of the health department's analysis. Key assumptions about how sensitive individuals would be to changes in premiums and benefits weren't disclosed. And in several important ways, the report didn't make apples-to-apples comparisons, particularly on premiums.
Larry Levitt, senior vice president at the Kaiser Family Foundation, criticized the report in a series of tweets, saying that it wasn't transparent about a key assumption on how consumers react to changes in prices and that it was "hard to evaluate without it."
Under the Cruz proposal, insurers would be permitted to sell plans that offered little in the way of meaningful health coverage, such as maternity or prescription coverage. That would force down premiums, but also push deductibles markedly higher. The HHS analysis based its projections on plans with a $12,000 deductible, and assumed that insurers would be allowed to charge older people five times as much as younger people, a bigger difference than what's allowed in Obamacare.
HHS estimates that in 2020, between 14.8 million and 16.1 million people would be enrolled in the individual market under the Cruz plan. That compares with an estimated 14.8 million enrolled this year, according to the document.
The government estimates that a non-ACA compliant plan in 2020 would cost between $230 and $290 per month. It's not clear what those plans would cover, but the benefits would be far less generous than what's offered in Obamacare. A mid-level Obamacare plan, meanwhile, would cost between $370 and $430, and would offer more generous coverage.
The Congressional Budget Office has yet to score the proposal, and its analysis may not be ready for weeks.
Insurer Pushback
The HHS analysis assumes insurance markets would remain stable. That wouldn't necessarily be the case under the Cruz amendment, which could destabilize the markets by effectively making insurance available only to healthy people, insurers have said.
The two main insurance-industry lobbying groups, America's Health Insurance Plans and the BlueCross BlueShield Association, offered a harsh assessment of the Cruz proposal last week.
"It is simply unworkable in any form and would undermine protections for those with pre-existing medical conditions, increase premiums and lead to widespread terminations of coverage for people currently enrolled in the individual market," the trade groups said in a July 14 letter. "Millions of more individuals will become uninsured."
Marc Short, the White House Legislative Director, said that the HHS analysis was shown to senators at Wednesday's meeting. HHS didn't respond to a request for comment. 
After the meeting, Senator John Cornyn, a Texas Republican, said that the analysis of the Cruz amendment showed his fellow senator's plan would reduce premiums. Senator Mike Lee, a Utah Republican who had been among the holdouts preventing the latest repeal-and-replace bill from coming to a vote, said "I would say the differences are narrowing."
— With assistance by Arit John, and Steven T. Dennis
Before it's here, it's on the Bloomberg Terminal.
LEARN MORE