Trump Vote Panel Vice Chair Questions Clinton Popular Vote Win
By and
President's controversial vote commission holds first meeting

Group chaired by vice president faces suits over work, intent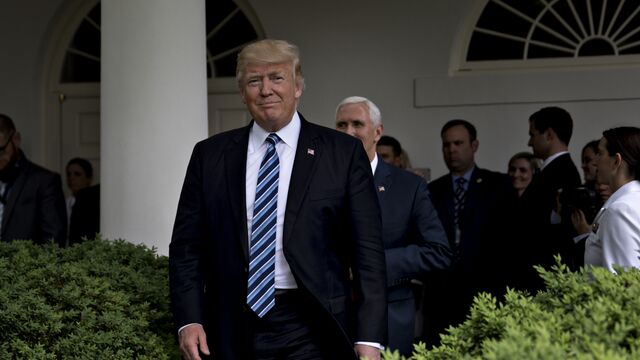 The Republican vice-chairman of President Donald Trump's voter fraud panel said the country may never know who received the most votes in the 2016 presidential election.
Kansas Secretary of State Kris Kobach cast doubt on Democratic candidate Hillary Clinton's popular vote win in the 2016 election -- she received 2.9 million more votes cast than President Donald Trump -- though he didn't offer any evidence of illegal voting. Trump received more electoral votes, which determine the outcome of the contest.
"You'll never know the exact tally, even if you do identify who was ineligible and still cast a ballot because you don't know who they voted for," Kobach told reporters Thursday after the panel's first meeting. "They could have voted for President Trump, the could have voted Hillary Clinton, they could have voted for a third-party candidate. Even if we got the data of this was the exact number of ineligible voters who voted, you still wouldn't know the tallies unless you interviewed every one of those voters under oath."
But Sarah Sanders, a spokeswoman for Trump, rebuffed questions about whether voting irregularities would undermine the legitimacy of Trump's victory in the Electoral College, which was the result of a smaller number of votes cast.
"It is clear who the president is based on the fact of who is sitting in the Oval Office," Sanders said.
Read more: Trump's Hunt for Fake Votes and the Hurdles Ahead
Trump maintains that but for voter fraud he'd have won the popular vote in last year's presidential election. The 12-member Presidential Advisory Commission on Election Integrity, which Trump appointed after making the assertion, met at the Eisenhower Executive Office Building on the White House grounds.
In a brief appearance just after the meeting got underway, the president told attendees they were undertaking a sacred task, then insinuated that state officials refusing to comply with Kobach's June 28 request for detailed voter data are doing so for improper purposes.
"One has to wonder what they're worried about," he said. "There's something. There always is."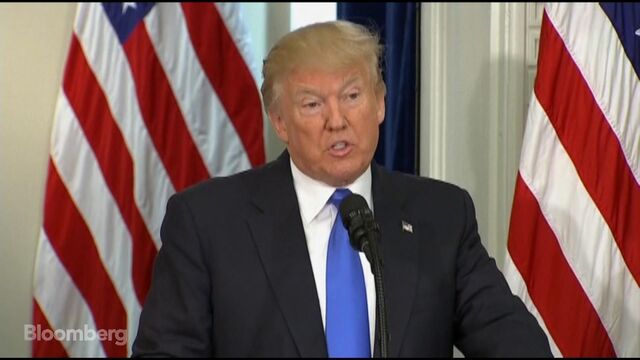 Trump said the commission will impartially "follow the facts wherever they lead" and that its work will be made public so that "the full truth will be known and exposed, if necessary, in the light of day."
Still no evidence has been produced in support of Trump's claim of rampant voter fraud last year and the panel's three-hour initial meeting was devoted largely to discussing voter registration and balloting integrity while emphasizing the importance of every single vote in state and local elections decided by narrow margins.
The bipartisan panel is assigned to study states' registration and federal election voting procedures, identifying those practices that "enhance the American people's confidence in the integrity of the voting processes" as well as practices that are detrimental.
Skeptics on the left have accused the panel of seeking to suppress turnout by Democrats, especially because of Kobach's leadership role on the commission. He is a prominent advocate of reduced immigration who has cracked down on voter registration in Kansas and has conducted vote fraud investigations that his critics have called spurious.
And while the panel is assigned to identify vulnerabilities that may lead to improper registration and voting, absent from Trump's executive order is any express directive to review cyber security. Russian hackers are believed to have accessed voting systems in 39 states last year, though election authorities say they did not affect the outcome of the vote.
Kobach Letter
Kobach sent a June 28 letter to election officials in all 50 states and the District of Columbia requesting voter data including names, addresses, birth dates and the last four digits of Social Security numbers. More than 40 states have declined to comply at least in part.
The commission has been accused in two federal lawsuits of failing to abide by federal privacy laws. Two additional suits accuse the panel of breaching open meeting laws; another suit filed July 18 by the NAACP Legal Defense Fund claims the commission is a pretext for future efforts to suppress minority voter participation.
Other Republicans on the panel include Hans von Spakovsky, a longtime advocate for stricter voter identification laws; former Ohio Secretary of State Ken Blackwell, who drew criticism in 2004 for rejecting votes cast on paper he said was not the correct weight; and former Justice Department lawyer J. Christian Adams, who has called the commission's critics "flat Earthers" who want to hide the truth of voter fraud.
Democrats on the commission include Maine Secretary of State Matt Dunlap; New Hampshire Secretary of State Bill Gardner; Woods County, West Virginia, Clerk Mark Rhodes and Jefferson County, Alabama Probate Judge Alan King.
After the meeting, Kobach said he was hopeful that a sufficient number of states would provide a sufficient volume of data to allow the panel to paint an accurate portrait of national voter dynamics.
Asked if he thought he'd see any fraud or irregularities on the scale suggested by the president, he replied, "I don't know. We'll see where the facts lead us on the commission."
Before it's here, it's on the Bloomberg Terminal.
LEARN MORE