NYC Subway Station Spending Questioned as Delays Increase
By
Citizens Budget Commission analyzes plan to add signs, lights

NY agency would spend $4 billion while equipment needs repairs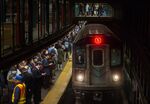 The Metropolitan Transportation Authority's plan to spruce up New York subway stations with lighting, wireless access, countdown clocks and video-screen signage would be better spent fixing equipment that's causing breakdowns and delays, according to a business-backed research group.
In May, the MTA board approved an amendment to its five-year, $32.5 billion capital plan that increased the amount for station improvements by about $1 billion to $4 billion. Complete overhauls are planned for at least 32 of its 472 stations, as opposed to specific repairs to identified problems on platforms, stairways and ventilation.
The Citizens Budget Commission, an independent monitor of state and city finances, released a study Wednesday after months of subway breakdowns caused by faulty signals, track fires and power failures delayed the commutes of millions of riders.
The problems, stemming in part from years of underfunding worsened by floods from Hurricane Sandy in 2012, caused Governor Andrew Cuomo to declare a system-wide state of emergency in June. He's asked the agency to develop a plan to address the crisis by the end of the month.
"As the agency faces falling subway performance, investments in the signal system and other state-of-good-repair work are necessary to ensure the system can continue to operate safely and reliably," the CBC report said. "Will future riders be better off and more satisfied waiting out the delays at enhanced stations? The MTA must consider this question as it reviews its capital program to address the current state of emergency."
Renderings of the renovated stations include easier-to-clean finishes, sleeker glass barriers between turnstiles and enhanced lighting on platforms, mezzanines, and corridors. Stations will also offer more visible signage and service announcements, neighborhood maps and countdown clocks, the report states.
Only two of the chosen sites -- each connected to Penn Station -- are in the top 25 for average ridership, the study found. Even including these subway stops, the make-over stations would account for only 8 percent of annual weekday entries to the system, the report states.
MTA spokesman Stephen Morello said the agency's capital plan spanning 2015 to 2019 also commits an unprecedented $4.6 billion for integrated subway signal, communications and track maintenance, and another $1 billion for new subway cars, "all of which are essential to the subway system's state of good repair."
This investment, plus its $32.5 billion operating budget, also its largest in history, "will speed MTA efforts to restore a better daily experience for its customers," he said.
Before it's here, it's on the Bloomberg Terminal.
LEARN MORE