Indonesia Struggles to Fire Up Its Economy
By
All economists predict central bank to hold rate at 4.75%

Bank targeting 10-12% loan growth after easing reserve rules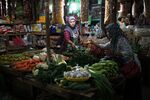 Start your day with what's moving markets in Asia. Sign up here to receive our newsletter.
Indonesia is at an impasse with the central bank and the government running out of policy space to fire up the economy.
After six interest rate cuts last year, gross domestic product is growing at about 5 percent -- a respectable pace, but not enough to generate the additional revenue that President Joko Widodo needs for his ambitious spending plans and to meet his 7 percent target. With the budget deficit nearing the mandated ceiling of 3 percent of GDP and the U.S. gradually tightening monetary policy, Indonesian authorities are finding reduced room to add extra stimulus.
At the current pace of expansion, "they're just stuck somewhere and they don't know how to drive it," said Charu Chanana, an economist with Forecast Pte Ltd. in Singapore.
After being Asia's biggest interest-rate cutter in 2016, Bank Indonesia has been on hold this year as inflation ticked up and higher U.S. rates made the economy vulnerable to foreign outflows. All 19 economists surveyed by Bloomberg predict Governor Agus Martowardojo and his board will keep the seven-day reverse repurchase rate at 4.75 percent on Thursday.
"They are in a wait-and-watch mode," said Chanana. "They are hoping some of the earlier cuts would give us some momentum. But it's looking unlikely after such a long wait already."
Here are some of key points to watch from Bank Indonesia's monetary policy statement:
Inflation
Consumer prices in Southeast Asia's biggest economy have picked up pace this year because of rising food and electricity costs, bucking a trend across most of Southeast Asia, where inflation is easing. The government expects inflation to be higher in 2017 than last year, but remain within the 3 percent to 5 percent target band. Consumer prices rose 4.37 percent in June from a year earlier.  
The central bank's policy stance "is expected to anchor domestic inflation expectations as well as maintain rupiah stability," said Josua Pardede, an economist at PT Bank Permata in Jakarta.

Credit Growth
Despite last year's rate cuts, credit growth is still lagging the central bank's target. Bank loans rose 8.7 percent in May from a year ago, according to data from the financial services authority, compared with Bank Indonesia's goal of 10 percent to 12 percent.
The central bank recently loosened rules on the amount of money commercial lenders must hold in reserves, allowing them more flexibility in managing liquidity. Since the beginning of July, banks have been allowed to calculate their reserve requirement ratio as a two-week average, while the amount of total deposits that must be kept with Bank Indonesia on a daily basis has been cut to 5 percent from 6.5 percent.
"I don't think it's going have a big impact but I think they're trying to look for new ways because they really don't have the bandwidth to ease now," Chanana said.
Economic Outlook
Martowardojo said earlier this month that GDP growth will probably reach 5 percent to 5.4 percent in 2017. Exports grew strongly this year -- in line with a pick up in global trade -- but dropped sharply in June, mainly due to seasonal factors. Consumer confidence, which helps to underpin spending in the economy, remains near a record high.
Before it's here, it's on the Bloomberg Terminal.
LEARN MORE