Business
Deloitte Thinks Diversity Groups Are Passé
The firm is nixing employee affinity groups for women and minorities—fixtures at many large companies—and replacing them with inclusion councils that have white men.
By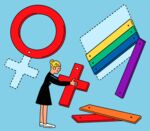 Megan Schumann doesn't seem like a woman who'd be cheerleading the end of the female advocacy group at auditing and consulting firm Deloitte LLP. The San Francisco-based consultant attended an all-girls high school at her own request and founded a women's business group when she went to Georgetown University. But 30-year-old Schumann, who's worked at Deloitte since graduating eight years ago, says it's time workplace affinity groups for women and minorities were replaced by so-called inclusion councils where white men hold important seats at the table.
"I am one of the more unlikely deserters from a women's initiative," she says. "But why go talk to a circle of people about something that feels like it's tied to only one facet of your identity?"
With diversity progress stalling in parts of corporate America, Deloitte is beginning to shift away from traditional approaches built around gender, race, or sexual orientation and instead working to get a broader buy-in, particularly from white males. After 24 years, WIN, the women's initiative at Deloitte, will end. Over the next 18 months the company will also phase out Globe, which supports gay employees, and groups focused solely on veterans or minority employees. In their place will be so-called inclusion councils that bring together a variety of viewpoints to work on diversity issues.
"We are turning it on its head for our people," says Deepa Purushothaman, who's led the WIN group since 2015 and is also the company's managing principal for inclusion. Deloitte will still focus on gender parity and underrepresented groups, she says, but not in the same way it has for the past quarter-­century, in part because millennial employees—who make up 57 percent of Deloitte's workforce—don't like demographic pigeonholes.
"By having everyone in the room, you get more allies, advocates, and sponsors," Purushothaman says. "A lot of our leaders are still older white men, and they need to be part of the conversation and advocate for women. But they're not going to do that as much if they don't hear the stories and understand what that means."
Xerox Corp. is often credited with creating in the late 1960s the first employee resource group (ERG), based on race, after riots shook major U.S. cities. Since then, groups focused on gender, sexual orientation, disability, and veteran status have emerged. According to a 2014 report by the Society for Human Resource Management, which offers the most recent data from the organization, only 15 percent of large companies had ERGs for women or minorities. But they're fixtures at lots of high-profile companies, from Citigroup's Pride organization for LGBT employees to General Motors' GM African Ancestry Network to Apple's Women@Apple.
No company in recent memory has been as vocal as Deloitte about the need to turn the page, surprising some diversity advocates. "I have to say that is really unusual," says Jennifer Brown, a consultant who helps companies create employee programs focused on racial or gender identity. "I have not heard of a single company doing that."
Brown says older workers in Generation X and baby boomers are more comfortable with diversity approaches centered on individual groups of like employees. "We need these groups until such time as people of like identity don't need to close the door and seek a safe space," she says. "We're not there yet."
PwC LLP, a competitor of Deloitte, doesn't plan to change its system of ERGs focused on women and minorities. "Our affinity groups at PwC are focused on business outcomes and come together to sponsor events that provide cultural awareness, mentoring, and opportunities to network," Lisa Ong, diversity director at PwC, said in a statement. "We believe there is tremendous value in also having individual ERGs to provide more leadership opportunities to their members."
Deloitte says its diversity shift is leading to enhanced inclusion of a key constituency: men. Brent Bachus, a 21-year veteran who's now managing director for talent inclusion and engagement, says that before he was assigned to the inclusion effort a few years ago, he sometimes didn't see a direct connection between himself and the firm's women or minority business resource groups because he didn't fit any of the criteria for joining one. "I don't know that I necessarily felt like I knew what role I was being expected to play, or if I even had a role," he says. With the inclusion council, he adds, he and other managers are expected to have a direct role in creating an environment that will keep employees of all backgrounds from leaving the company and help attract new talent.
Isaac Dixon, associated vice president for human resources at Portland State University, says a shift away from ERGs is an idea he's been advocating for many years. He's found that such affinity groups often fail because the white executives who make decisions aren't directly involved in them. "The groups can actually insulate executive leadership from being involved," says Dixon, who contends that groups that mix viewpoints together will foster the necessary commingling. "You have to get people with different backgrounds partnered up with more executive leadership."
Schumann, the Deloitte consultant from San Francisco, says she realized while running a program to help women employees find mentors that there were many other employees who felt they needed help and it was difficult to separate programs for them by a specific gender or race. "People who come from all sorts of different backgrounds really struggle with feeling 'othered' when they come into a corporate environment, if this is very different from the community of people they are used to being around," she says. Also, Schumann says, many people in her generation don't want to be defined by a demographic trait and prefer to organize around interests and shared values.
Purushothaman says Deloitte's shift may be difficult for some employees, particularly because race and gender are still hot political topics, but the company wants to move forward. "People would understand if we kept the structure as it was, given all the current conversations about women in corporate America and everything else," she says. "But for us, in order to really drive change, get everyone on board, and to really have a focus on the culture conversation that needs to happen, these things were necessary."
BOTTOM LINE -
Diversity groups for specific genders or races have been around since the 1960s. Deloitte thinks it's time to move beyond them.
Before it's here, it's on the Bloomberg Terminal.
LEARN MORE