politics
Balance of Power: Did Trump's First Year Just End?
By and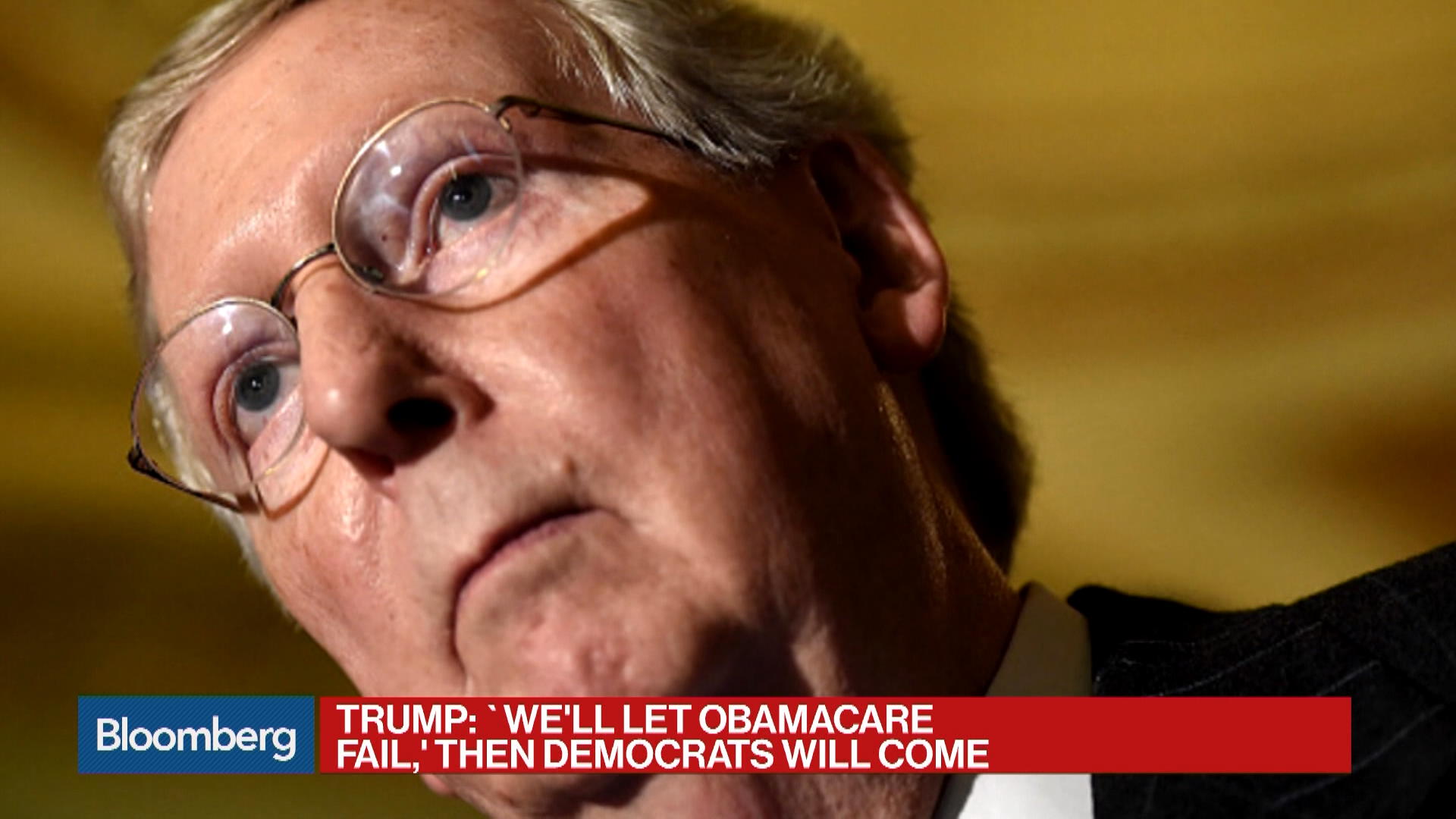 Barack Obama's first year in office ended with a successful Christmas Eve Senate vote on what was to become his signature health care law. Donald Trump's might be capped with...nothing at all.
After the drive to repeal Obamacare collapsed yesterday, Trump is more likely than ever to end 2017 without a single major legislative accomplishment. A $1 trillion infrastructure plan is little more than a talking point. Lawmakers ignored Trump's budget proposal. And Republicans who control Congress haven't even given him money to build his border wall. Trump and his team are clearly finding the business of governance anything but simple. 
And that's before the permanent distraction of Russia is factored in — witness the flurry of excitement yesterday over a previously undisclosed conversation between Trump and President Vladimir Putin on the sidelines of a G-20 leaders dinner in Hamburg earlier this month. 
What next on the legislative front? Repealing Obamacare was supposed to be relatively easy, especially compared with Trump's other major first-year initiative — overhauling the federal tax code. 
The White House pledges that next time will be different. After the mess of repeal and replace, it needs to be. 

Sign up to receive the Balance of Power newsletter in your inbox, and follow Bloomberg Politics on Twitter and Facebook for more.
Global Headlines
New Russia revelations | The White House sought to downplay the significance of the undisclosed conversation between Trump and Putin, saying the brief encounter on July 7 was among many the U.S. president had with other leaders at the G-20 dinner. Investigators probing Russia interference in last year's election have plenty of new leads to chase, including emerging details about the checkered past of Ike Kaveladze, who was revealed on Tuesday to be the eighth person at Donald Trump Jr.'s meeting with a Russian lawyer in June 2016.
Xi Jinping is everywhere | The People's Daily has long been a cheerleader for China's Communist Party, but the president is taking things to a new level as he builds his clout before a leadership shuffle later this year. A study of articles in the newspaper shows that mentions of Xi surpass those of predecessor Hu Jintao by a long way. Xi's pet slogans are also cropping up frequently, while phrases connected to political liberalization have faded.

Signs of Brexit progress | Talks in Brussels are showing some signs of progress as negotiators discussed what rights EU nationals will enjoy in the U.K. after Brexit. But there was also frustration over the question of how much money Britain will have to pay the EU when it leaves. Still, everyone is trying to get along and yesterday many U.K. and EU officials spent their lunch hour together. 
The riches of Congo's first family | Zoe Kabila, the brother of Congolese President Joseph Kabila, runs a business empire worth hundreds of millions of dollars. While he publicizes some of his holdings, others were uncovered for the first time in a review of corporate filings obtained by Tom Wilson. The stakes in everything from luxury tourism to mining make it hard for companies to operate in the Congo — Africa's biggest copper producer — without coming across a member of the Kabila family.

Did MBS plot Saudi rival's ouster? | Crown Prince Mohammed bin Salman worked to remove his uncle from power last month in a transition rockier than has been publicly portrayed, the New York Times reported, citing current and former U.S. officials and associates of the royal family. Mohammed bin Nayef was summoned to a Mecca palace on false pretenses and held against his will for hours until he gave up his claim to the throne, the report said. The Royal Court didn't immediately reply to an email seeking comment.
U.S. may sanction Maduro allies | The Trump administration is readying sanctions against Venezuela's defense minister and other officials for human rights violations, people familiar with the matter said. While President Nicolas Maduro has shrugged off anti-government protests for weeks, the news could get his attention, especially as the U.S. is also considering some sort of ban on oil purchases. The U.S. buys half of Venezuela's crude exports. 
And finally... Venezuela's richest residents are partying while their city burns. While protesters pack the upscale Chacao district during the day, Andrew Rosati reports that "the Manhattan of Caracas" turns into a party zone after dark. The wealthy few blow their hard currency on parties, Scotch and fine dining, as bodyguards wait by armored SUVs. "The country's going to hell, but people keep going out," says one bar hopper. 

Before it's here, it's on the Bloomberg Terminal.
LEARN MORE