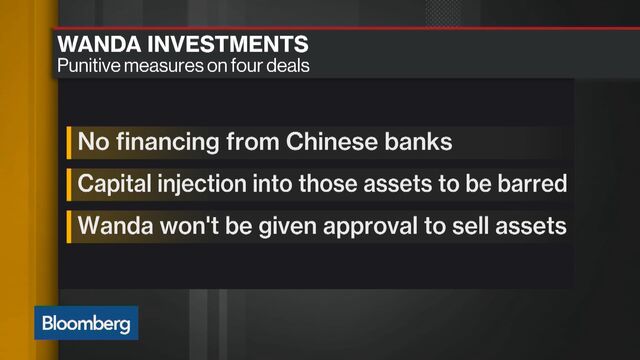 One of China's most deal-hungry groups is facing scrutiny from the Chinese government. Dalian Wanda Group Co., a property-to-entertainment conglomerate run by the country's second-richest man, is under fire for allegedly violating investment rules. China's regulators are trying to slow the pace of overseas takeovers, potentially bringing an element of horror to billionaire Wang Jianlin's Hollywood dream.
1 What is Wanda?
Wanda is a real-estate group that's seeking to transform itself into a entertainment giant that would challenge Walt Disney Co. Born in 1954, Wang served in the People's Liberation Army from 1970 to 1986 and founded Wanda a few years later. Wang's companies include Hong Kong-listed Wanda Hotel Development Co., Shenzhen-listed Wanda Film Holding Co. and New York-listed AMC Entertainment Holdings Inc. Despite the property roots, Wang is squarely focused on entertainment and has said numerous times that he'd be willing to buy a big Hollywood studio.
2. What's Wanda's current involvement in Hollywood?
It's the world's largest operator of movie theaters. Wanda took control of AMC in a $2.6 billion deal in 2012 then through AMC acquired other movie theaters including Odeon & UCI Cinemas, Carmike Cinemas Inc. and Nordic Cinema Group Holding AB. Last year, Wanda became the first Chinese firm to own a Hollywood film production company when it paid $3.5 billion for Legendary Entertainment, maker of movies like "Kong: Skull Island" and "Straight Outta Compton." Wang, who's talked of buying stakes in Lionsgate and Metro-Goldwyn-Mayer, wants to control 20 percent of the global film market by 2020.
3. Any big hits or misses?

"The Great Wall," a Wanda-backed movie starring Matt Damon, was shot at Wanda's Qingdao Movie Metropolis, the world's biggest film lot. (Nicole Kidman, Leonardo DiCaprio and Catherine Zeta-Jones were among the stars who attended the 2013 opening ceremony of the Qingdao studio.) With a production budget of $150 million, "The Great Wall" was the costliest Chinese-American co-production ever but flopped at the U.S. box office this year. A plan for Wanda Film to buy movie-making assets including Legendary from the parent group for 37.2 billion yuan ($5.6 billion) collapsed last year.
4. Has Wanda invested in other entertainment businesses?

The group owns Infront Sports & Media AG, a sports marketing company, and Ironman organizer World Triathlon Corp. It also has a stake in Club Atletico de Madrid and is a top sponsor of soccer's ruling body FIFA.
5. Why punish Wanda?
China wants to cut outflows of capital that are heaping pressure on the yuan. That's led the government to target Wanda and other acquisitive conglomerates including Fosun International Ltd., HNA Group Co. and Anbang Insurance Group Co. China will cut off some funding and take other steps to punish Wanda for breaching restrictions on overseas investments, including the January deal to buy Nordic Cinema Group for 8.25 billion Swedish kronor ($1 billion), people familiar with the matter have said. It wasn't immediately clear which investment rules Wanda had breached. Wang has announced more than $20 billion of deals since the beginning of 2016.
6. Why the concern about the yuan?
The Chinese currency had been depreciating fast when in December it came within striking distance of crossing 7 to the dollar for the first time since 2008. Back in early 2014, the yuan was close to 6. Chinese officials worry that money flowing out for overseas purchases will exacerbate the currency's depreciation, which in turn will spur a selloff in the yuan. A Communist Party body chaired by President Xi Jinping on June 26 called for greater scrutiny of outbound investments, according to Xinhua. This and other strategies to curb capital outflows may be working: the yuan has strengthened against the dollar in 2017.
7. Has the crackdown hurt Wanda?
Yes. Although Wanda has not commented on the reports of punitive measures, the increased scrutiny on overseas deals contributed to the collapse of a proposed $1 billion acquisition of Dick Clark Productions Inc., producer of the Golden Globes Awards and TV shows such as "So You Think You Can Dance," early this year. AMC's shares have plunged more than 40 percent in 2017.
8. Will Wanda need to sell assets?
It already has started, with the sale of hotels and theme parks. In July, Wanda agreed to sell most of it hotels to Guangzhou R&F Properties Co. for 19.9 billion yuan. Wanda also agreed to sell a 91 percent stake in its tourism projects to Chinese developer Sunac China Holdings Ltd. for 43.8 billion yuan. The latter deal represented a departure from Wang's past predictions that he would build a tourism empire bigger than that of Walt Disney.
The Reference Shelf



Before it's here, it's on the Bloomberg Terminal.
LEARN MORE