U.S. Readies Sanctions Against Top Venezuelans
By , , and
Targets said to include defense minister, Maduro allies

Rubio, others briefed on broader slate of potential measures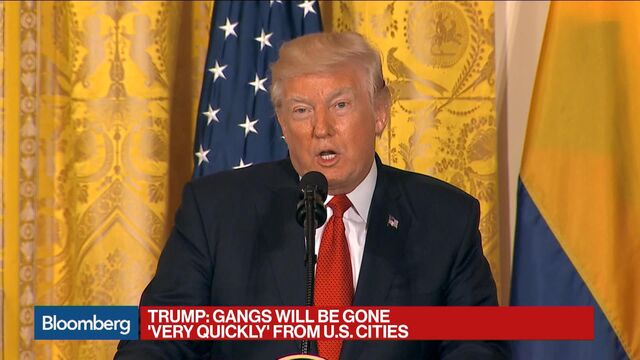 The U.S. is poised to impose sanctions on Venezuela's defense minister and several other top officials for human-rights violations, according to people with knowledge of the plan, who added that the action was one of several under consideration by the Trump administration against President Nicolas Maduro's government.
The U.S. Treasury could announce the sanctions, which would freeze the officials out of the U.S. financial system, as soon as Tuesday, the people said. Among those targeted would be Defense Minister Vladimir Padrino Lopez, 54, and Diosdado Cabello, 54, a longtime ally of late President Hugo Chavez and power broker within the ruling Socialist party, they said.

A senior Trump administration official confirmed the U.S. is ready to impose sanctions against individuals, though the official wouldn't identify the targets. The sanctions could come at any time and will definitely be imposed if the Maduro government proceeds with a plan to change Venezuela's constitution, the official said in a conference call with reporters arranged by the White House. The official asked not to be identified discussing U.S. policy ahead of its announcement.
The move against top officials -- potentially the third round of sanctions against Venezuelans under the Trump administration -- is one offshoot of a broader U.S. probe into allegations of Venezuelan corruption that began several years ago and has resulted in some criminal charges. Other Venezuela-related measures are also in the works, the people said, adding that U.S. officials have given briefings on the potential actions in recent weeks to lawmakers including Senator Marco Rubio of Florida.
Groundwork Laid
The administration laid the groundwork this week for new penalties on Venezuela's government. On Sunday, millions of Venezuelans, struggling with an economic collapse many blame on years of official corruption, protested the Maduro government's plan to rewrite the country's constitution to maintain its hold on power. On Monday evening the White House, even as it absorbed a blow to its plan to remake American health-care, said it would bring "strong and swift economic actions" if Maduro's government went ahead with its constitution plan.
But there is tension inside the White House about which measures to adopt, and whether to wait to see how Venezuela's constitutional issue plays out, according to people familiar with the discussions. Among the measures creating divisions is whether to impose some sort of ban on crude oil imports from Venezuela, they said.
Why Such an Uproar Over Venezuela's Constitution: QuickTake Q&A
The debate among top administration officials reflects friction over the potential impact on U.S. gasoline prices and concerns about exacerbating the worsening humanitarian situation in Venezuela, said the people, who asked not to be identified discussing internal deliberations.
While the National Security Council views limiting Venezuelan crude as a powerful weapon, the State Department has argued that cutting off a major piece of the country's foreign trade could harm already suffering Venezuelans. There is significant sensitivity to the impacts on Venezuelan people, one of the people said. 
Other officials have highlighted potential economic harm inside the U.S., including higher gasoline prices for motorists. Refiners have warned that any move to choke off the third-largest foreign source of U.S. oil imports (after Canada and Saudi Arabia) could disadvantage Gulf and East Coast refiners optimized to use Venezuelan crude and cause a spike in gasoline prices.  
"While placing sanctions on oil imports from Venezuela would not deny a market for this internationally traded commodity, it would likely hurt consumers and businesses right here in the United States," the American Fuel and Petrochemical Manufacturers, a refining trade group, said in a July 6 letter to Trump.
Strategic Reserve
Any final decision on whether to limit Venezuelan crude flows -- including potential multilateral action -- is not likely before July 30, when Venezuela is scheduled to elect a constituent assembly, one of the people said.
If the U.S. later decides to block Venezuelan crude imports, it could seek to blunt price impacts by releasing oil stashed in an emergency stockpile, the Strategic Petroleum Reserve. However, those supplies wouldn't be a perfect match for refineries processing sour crude from Venezuela. 
The idea is seen only as a "short-term solution," said Joe McMonigle, a senior energy policy analyst at HedgeEye Research and former chief of staff at the Energy Department. "But I think the White House realizes the big potential impact here, so they're trying to come up with potential remedies."
Bribery Allegations
Trump entered the White House as the government was already well into a probe of alleged Venezuelan corruption. At the center of the broad probe -- conducted by the U.S. Justice Department, Immigration and Customs Enforcement, Department of Homeland Security and other agencies -- are allegations of bribery and money laundering related to the country's state-owned oil company, Petroleos de Venezuela SA, or PDVSA. Last year, Roberto Rincon-Fernandez, a Venezuelan national living in Houston, pleaded guilty in a Houston court for taking part in a $1 billion bribery scheme to secure contracts with PDVSA for companies affiliated with him.
Senators briefed in recent weeks on Venezuela-related measures include Rubio as well as Bob Corker of Tennessee, according to two people familiar with the discussions. The officials presented a dossier, more than 200 pages in length, that included allegations of white-collar crimes related to PDVSA, three of the people said.
Spokesmen for Rubio and Corker didn't respond to requests for comment.
Rubio, in July 14 comments on Twitter, said Cabello was feeling "nervous" in reaction to the fact that "evidence of his crimes is growing by the days" while "the walls are closing in."
The Treasury Department's Office of Foreign Assets Control, which administers and enforces sanctions, in February blocked the country's vice president, Tareck El Aissami, from the U.S. financial system, branding him a drug kingpin. In May, Treasury expanded the sanctions list to include eight members of the country's Supreme Court of Justice that it accused of undercutting the country's democratically elected legislature.
Treasury put the individuals on its Specially Designated Nationals list, reserved for individuals and companies accused of acting on behalf of countries sanctioned by the U.S. based on foreign policy or national security goals, or for crimes such as drugs and weapons trafficking or terror financing.
Corruption's Cost
The cost of corruption has become apparent as Venezuela's economy crumbles and average people face shortages of affordable food and medicine. The former finance minister, Jorge Giordani, has said that as much as $300 billion was embezzled from Venezuela in the last decade through high-level corruption.
Anti-government protests over the past four months have left almost 100 dead and amid increased fears the country is heading closer toward Cuba-style authoritarianism. Over the weekend, Venezuelans defied expectations and threats of violence, with more than 7 million Venezuelans turning out to vote in an unofficial referendum to reject plans to rework the constitution and to call for fresh elections.
Luis Almagro, Secretary General of the Organization of American States, is due to testify on July 19 to the U.S. Senate's Foreign Relations Committee in a session called "The Collapse of the Rule of Law in Venezuela: What the United States and the International Community Can Do to Restore Democracy."
— With assistance by Tiffany Kary, Ethan Bronner, Fabiola Zerpa, Noris Soto, Andrew Rosati, Nathan Crooks, and Toluse Olorunnipa
Before it's here, it's on the Bloomberg Terminal.
LEARN MORE