May Must 'Raise Her Game' Consulting Scots on Brexit, Lords Say
By
Scots, Welsh seek to claim powers being returned from Brussels

Britain may face constitutional crisis over Brexit policy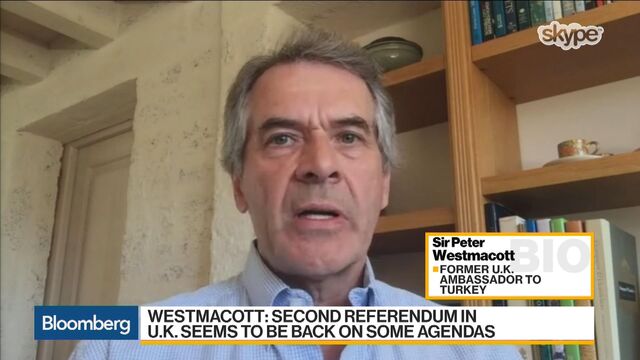 U.K. Prime Minister Theresa May must "raise her game" in consulting with the semi-autonomous governments of Scotland, Wales and Northern Ireland on Brexit, a House of Lords panel said on Wednesday.
The balance of powers between the central government in London and the administrations in Edinburgh, Cardiff and Belfast "should be as far as possible unchanged" after Brexit, the House of Lords European Union Committee said in a report published Wednesday. Meetings of the joint ministerial council, combining representatives of all four, should be made "more effective," the panel said.
"The U.K. government must respect the devolved institutions," Michael Jay, a member of the committee and former head of the Diplomatic Service, said in a statement accompanying the report. "It's not enough saying it's listening to them; it's actually got to take account of what they say and adjust its approach to accommodate their specific needs."
May's Brexit policy risks causing a constitutional crisis, after the leaders of the Scottish and Welsh governments rejected her flagship legislation to transpose all EU laws into British statute. When Brexit Secretary David Davis introduced the bill in Parliament last week, Scottish First Minister Nicola Sturgeon and her Welsh counterpart, Carwyn Jones, issued a joint statement calling it "a naked power-grab" and "an attack on the founding principles of devolution."
'Profound' Impact
The Scottish and Welsh leaders want powers over areas such as agriculture and fisheries that are being reclaimed from Brussels by the central government to be devolved to them. Their opinion counts because May is also seeking consent from the legislatures in Scotland, Wales and Northern Ireland to approve the bill. While she's not bound by their decision, there are no precedents for the central government ignoring such a refusal.
"Brexit's impact on the future of the United Kingdom will be profound and unpredictable," Jay said. "At the moment the internal politics are pretty toxic, and we saw only last week the start of what could become a deep and bitter dispute on the role of the devolved institutions in passing the EU (Withdrawal) Bill."
Northern Ireland, for its part, has been without a government since January, because the two main parties, Sinn Fein and the Democratic Unionists, have failed to broker a power-sharing agreement following a scandal over a renewable-energy program whose cost spiraled. The 10 Democratic Unionist lawmakers in the U.K. House of Commons have agreed to support May in getting her Brexit agenda approved.
While Wednesday's report was prepared before Davis released his Brexit bill, its findings may strike a chord with Sturgeon and Jones.
"Brexit will be a major constitutional change for the United Kingdom, and thus potentially a source of instability," the Lords panel said. "Any attempt to use Brexit to make a power grab, either to 're-reserve' powers previously devolved, or to claim more devolved powers, could compound such instability: This is not the time to embark on controversial amendments to the devolution settlements."
Before it's here, it's on the Bloomberg Terminal.
LEARN MORE