Forget Politics. For the Dollar, It's All About Central Banks
By , , and
Central banks more of a focus than U.S. 'political snafu'

Greenback drops to 10-month low for 8% decline in 2017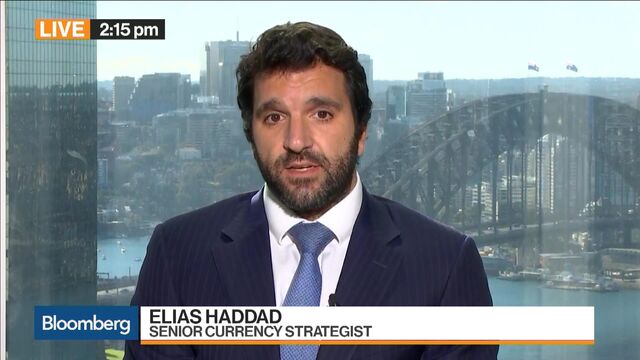 Political gridlock in Washington is giving traders a fresh excuse to sell the dollar. But the outlook for central-bank policy is still its biggest threat.
The currency fell to a 10-month low Tuesday after Republican efforts to overhaul health care collapsed, sowing doubts about the prospects of President Trump's economic agenda. Yet for all the focus on politics, shifting expectations for interest-rate differentials are at the root of the dollar's 8 percent slide this year. Case in point: The yield advantage on 10-year Treasuries over German bunds has crumbled to the slimmest since November.

The demise of the health-care bill is "negative in the context of being a political snafu, but the market's so used to seeing that over and over again," said Brad Bechtel, a currency strategist at Jefferies LLC. "There's a lot of things going on around the world in relation to central-bank policy impacting currency markets, and that's driving things more than the U.S. political side." 
The greenback's decline deepened in recent weeks as investors added to bets that major central banks will start catching up to the Fed in tightening policy. That notion gained traction last week after the Bank of Canada raised rates for the first time since 2010. Traders are now looking ahead to the European Central Bank's meeting Thursday for signs that officials are ready to pare stimulus.
The dollar traded at $1.1562 per euro as of 1:19 p.m. Tuesday in New York, and reached the weakest since May 2016. The Bloomberg dollar index is on pace for a fifth straight monthly decline, the longest since 2011.
There are other signs that investors are losing confidence in the dollar. Hedge funds hold the biggest net short position on the currency since 2013. The median forecast for the greenback for the end of this year has tumbled to $1.14 per euro, the lowest since 2015.
Rates markets also show little support for the dollar as lackluster U.S. economic data -- in particular inflation figures -- cast doubt on the Fed's tightening path.
The extra yield on 10-year Treasuries versus similar-maturity bunds fell to 1.71 percentage points Tuesday, from about 2.24 percentage points at the start of 2017, data compiled by Bloomberg show. The spread reached the widest since the 1980s in December on speculation that U.S. economic growth would outpace Europe's, causing the Fed to hike more quickly than its global peers.
"The combination of low inflation, low rates and low reform momentum give investors little reason to hold dollars," John Normand, head of FX, commodities and international rates research at JPMorgan Chase & Co., wrote in a report Tuesday.
Before it's here, it's on the Bloomberg Terminal.
LEARN MORE