Toronto Home Sales Plummet to a Seven-Year Low
By and
Three-month average down 14.2% after flood of new listings

Bank of Canada rate hike expected to further cool market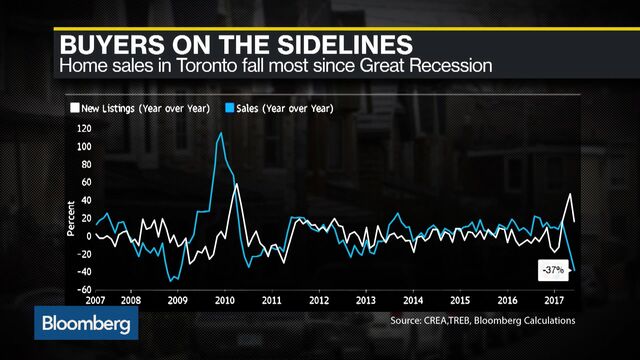 Canada's hottest housing market is definitely cooling down.
Total home sales in Greater Toronto dropped to 5,977 in June, the lowest level since 2010 and down 15.1 percent from the month prior, data from the Canadian Real Estate Association show. Average prices are down 14.2 percent since March -- the fastest 3-month decline in the history of the data back to 1988 -- while the ratio of sales to new listings sits at its lowest level since 2009.
The June data comes after a series of measures by policy makers to tighten access to the market -- and before the Bank of Canada hiked its benchmark interest rate last week, the first increase since 2010 that will further pinch mortgage eligibility. Prices and sales also fell in nearby regions such as Hamilton-Burlington and Kitchener-Waterloo, CREA data show.
"Changes to Ontario housing policy made in late April have clearly prompted many homebuyers in the Greater Golden Horseshoe region to take a step back and assess how the housing market absorbs the changes," Gregory Klump, CREA's chief economist, said in a written statement, referring to Toronto and its surrounding communities.

Sales also fell 4 percent from the previous month in Vancouver, the country's other hot real estate market, to 3,047 residential units. Greater Vancouver remains Canada's most expensive market with an average price of C$1.04 million, down 3.2 percent from May.
Lawmakers, concerned that escalating prices could lead to a disorderly correction, imposed measures including tightened mortgage eligibility rules and a tax on foreign buyers. Toronto's market has lost momentum, while in Vancouver sales plummeted last year on similar measures but have since rebounded.
Loss of Steam
Toronto benchmark prices -- which take into account the types of homes sold -- fell 0.7 percent in June, the most since 2010, although they're still up 5 percent over the past three months, the real estate association reported.
The bulk of the cool-down is in regions affected by Ontario's new foreign buyers tax, Bank of Montreal economists Doug Porter and Robert Kavcic wrote in a research note Monday. A re-balancing of sales-to-listing ratios "has taken some serious steam out of pricing power," they wrote.
The economists expect Toronto to follow Vancouver's path -- price adjustment at the top of the market with less impact at lower prices. Meanwhile, cities like Montreal and Ottawa look strong.
"The Canadian housing market is chock full of unique stories, both positive and negative," Porter and Kavcic said. Ontario's changes "have worked to alter market psychology -- and that is a positive outcome given the speculative dynamics in place a few months ago."
Sales fell most sharply in Regina, which was down 27.3 percent. Home sales in Canada overall were down 6.7 percent from the previous month, while the average price fell to C$491,770, down 3.4 percent from the previous month. Average prices remained up 0.4 percent from the previous year.
Before it's here, it's on the Bloomberg Terminal.
LEARN MORE