Tesla Says Driver Clarifies Autopilot Wasn't on During Crash
By and
Automaker's shares declined after Minnesota police report

Musk releases email in which driver describes accident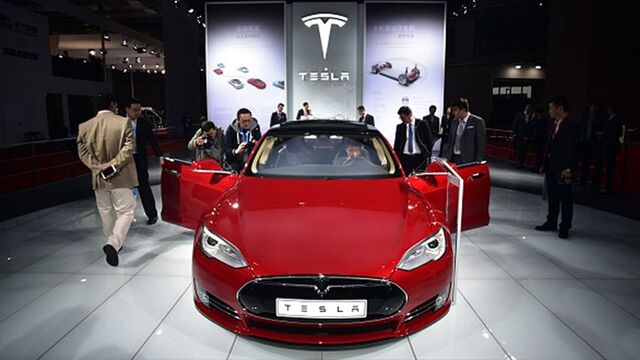 Tesla Inc. Chief Executive Officer Elon Musk posted an e-mail from a driver who now says he didn't have his vehicle's Autopilot system engaged during a weekend crash in Minnesota, an incident that contributed to a stock decline on Monday.
Dave Clark, 58, had told police the 2016 vehicle left the roadway after he activated Tesla's driver-assistance system, according to a statement released Sunday by the Kandiyohi County Sheriff's Office. The vehicle was found flipped on its top, and Clark and four adult passengers sustained minor injuries, police said.
On Monday afternoon, after Tesla shares fell as much as 4.4 percent, Musk tweeted a copy of an email that Clark sent late Sunday to the investigating officer, clarifying that Clark believes he had already disengaged the Autopilot shortly before the accident occurred.
"To the best of my recollection I had engaged the autopilot system but then I had disengaged it by stepping on accelerator," Clark wrote. Musk said the driver permitted the company to share the email, and Clark couldn't immediately be reached by Bloomberg News.
Months after a fatal May 2016 crash in which the Autopilot system and the vehicle's driver failed to brake for a semi truck that was crossing a Florida highway, Tesla began shipping each of its new vehicles with more cameras and sensors to give them 360-degree visibility. The National Highway Traffic Safety Administration investigated the incident and didn't find a defect. The regulator and Tesla have said Autopilot is a driver-assistance feature and not a self-driving system, and drivers are told when engaging it to keep their hands on the wheel.
Tesla shares closed down 2.5 percent to $319.57 in New York. The Minneapolis Star Tribune reported on the Tesla crash earlier Monday.
Tesla Shares
Monday's decline was a blip during for Tesla stock, which has climbed 50 percent this year, driven by anticipation of Tesla's cheaper Model 3 sedan starting production. The car will start at $35,000 and come equipped with Autopilot hardware, according to the company's website.
Musk had sought to tamp down expectations Saturday, saying during a keynote to the National Governors Association that Tesla's stock price "is higher than we deserve."
"Expectations sometimes get out of control," Musk said at the association's summer meeting in Providence, Rhode Island. "I hate disappointing people so I'm trying real hard to meet those expectations, but that's a pretty tall order."
On Monday afternoon, Musk took to Twitter to explain his own comments: "I should clarify: Tesla stock is obviously high based on past & present, but low if you believe in Tesla's future."
— With assistance by Gabrielle Coppola
Before it's here, it's on the Bloomberg Terminal.
LEARN MORE