politics
Macron Asks Local Government to Save $15 Billion to Cut Deficit
By
Local authorities must contribute to spending cuts by 2022

Macron outlines plan to 'simplify' French local norms, rules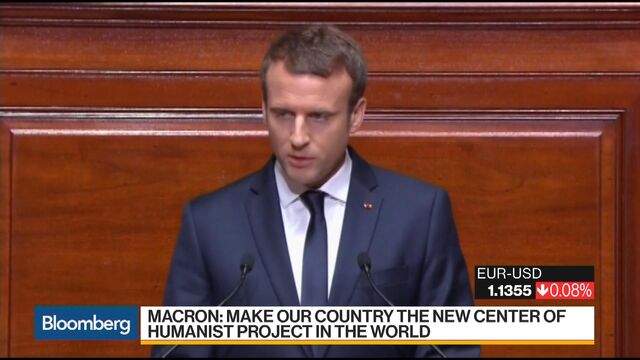 President Emmanuel Macron said the French state will ask local authorities to save 13 billion euros ($15 billion) by 2022 as his government seeks to shrink the recurring deficit.
"It's a bigger saving than we planned, but it represents local government's share in national spending," Macron said Monday in Paris in a speech to the Senate. "In France, public spending is too high and so are taxes."
Macron is asking the country's 18 regions, 102 departments and thousands of communes to contribute to his national effort to tackle the deficit in the euro zone's second-largest economy. As well as reining in spending, he's seeking measures to simplify how they function, cuts to the number of staff on the payroll and an overhaul of the system of local taxes.
The national government is struggling to contain a deficit that is on track to be wider than expected in 2017 and shows no sign of narrowing. Having failed to deliver a balanced budget since 1974, France has earned a reputation for flouting European Union rules. That reality prompted Macron to say repeatedly during his presidential campaign that he would meet those commitments as a matter of gaining credibility on the European stage.
The 39-year-old leader, who won office in May on promises to overhaul the jobs market, restrain the deficit and remake the pension system, is now grappling with the realities of cutting spending and changing the labor law. His government is due to publish a multi-year budget strategy and enforce changes to the labor code by late September.
Also in May, the European Commission warned that France would miss its goal to bring the spending gap below the EU limit of 3 percent of gross domestic product this year and said that "under unchanged policies" the deficit in 2018 will widen to 3.2 percent of GDP.
Before it's here, it's on the Bloomberg Terminal.
LEARN MORE