politics
House Conservatives Fear Health-Care Deja Vu on Secret Tax Plan
By
'We don't want to make the same mistake twice,' lawmaker says

House, Senate and White House officials keep tax talks private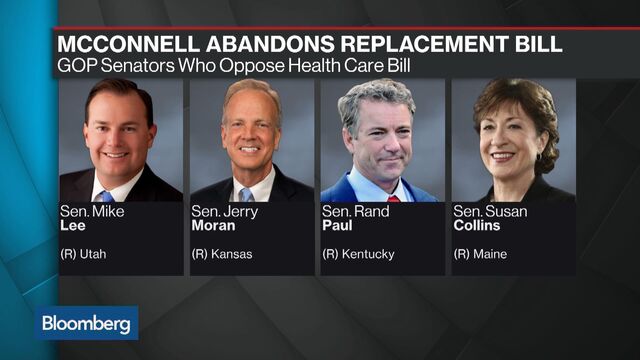 House conservative leaders worry they'll be forced to vote to advance a vehicle for a tax-code rewrite without knowing details of the plan, setting up a repeat of Congress's troubled efforts on health-care legislation.
With a committee markup of a key budget resolution scheduled for Wednesday, leaders of the conservative House Freedom Caucus have demanded details about the tax package and about welfare-spending cuts that GOP leaders have agreed to in principle. But they've received no guarantees, and the prospects for seeing specifics ahead of a budget vote appear to be diminishing.
For Representative Jim Jordan, a co-founder of the caucus that claims 30 or so members, that's too reminiscent of the way GOP leaders handled health care, legislation that remains up in the air seven months after Congress adopted a detail-free budget measure to kick off the process.
"The way we look at it is -- look what happened in January," Jordan said. "We went along with a budget thinking we were going to do a repeal bill and a separate replacement legislation for Obamacare and instead we get this seven-month ordeal we're still going through. We don't want to make the same mistake twice."
Senate Republican leaders delayed a vote on the health-care bill that was planned for this week because Senator John McCain of Arizona is recovering from surgery. The legislation's prospects remain uncertain. On taxes, top House and Senate leaders have been meeting privately to hammer out proposals with Trump administration officials. The White House says it hopes to release a unified Republican plan by early September, but no details have emerged from the closed-door sessions.
In a Bind
Freedom Caucus leaders fear that if they're forced to vote on the budget resolution before getting any specifics, they'll be in a bind: Either scuttle the budget measure and be blamed for blocking tax reform, or risk an extended top-down process that -- like the health-care effort -- could lead to stalemate.
"Fool us once, your fault; fool us twice, our fault," Jordan said. "We want to know what welfare reform is going to look like, what tax reform is going to look like."
Asked about those concerns, House Ways and Means Chairman Kevin Brady, the chamber's top tax writer and a close ally of Speaker Paul Ryan, gave no indication that any details would be released by Wednesday. But he promised that members' concerns are being heard -- and sought to smooth over any discontent.
"I would encourage all of our members to continue to stay at the table with us rather than just drawing bright lines at any time in the process," Brady told reporters on Monday. "Tax reform's a process. And it's not an easy one."
Republican leaders don't expect any Democrats to support the eventual tax legislation. So in order for it to clear the Senate, where the GOP holds a slim 52-seat majority, they plan to use a special budget procedure that allows bills to pass with a simple majority. That makes the budget resolution that's under committee consideration this week vitally important to the tax-overhaul effort, from a procedural standpoint.
A senior House GOP aide said the Budget Committee's job in the budget-resolution process is to provide instructions to House panels about how much to save and spend, but it cannot order them how to do so. So the details are outside its purview.
Border-Adjusted Tax
Representative Dave Brat, a Freedom Caucus member from Virginia, said the group is willing to spend more on defense and be flexible with the overall spending and revenue targets for fiscal 2018 that must be established in the budget resolution -- but they need a better general road map on tax changes.
"We're flexible on any of these pieces, but we have to know where we're going," he said.
But Brat wants at least one thing made clear: that the tax plan won't include the controversial border-adjustment tax on companies' imports and domestic sales. That proposal has been pushed by Ryan and Brady and would raise an estimated $1 trillion in revenue over a decade to help lower rates. But it lacks Senate support.
"We have to see specific language on the border adjustment, the fact that it's not going to be in the tax instructions," Brat said. "My main concern is if that's gone we have to have the revenue necessary to keep tax rates low."
Brat, a member of the Budget Committee, held open the possibility of voting against the resolution on Wednesday. Jordan said he may not vote for the budget resolution without written assurances on the tax plan and spending cuts.
"My guess is right now they don't have the votes for the budget in the House," Jordan said. "So why not write, 'Here's what the tax plan is going to look like?' Why can't we figure out these things?"
Before it's here, it's on the Bloomberg Terminal.
LEARN MORE