Brazil Snubs Gisele Bundchen, Pushes Amazon Deforestation Bill
By
President Temer backs bill to lift environmental protections

New proposal would affect 350,000 hectares of Amazon forest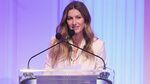 Brazil's President Michel Temer is ignoring pleas from both supermodel Gisele Bundchen and the Norwegian Prime Minister by submitting a bill to Congress that would reduce protections of a large national forest in the Amazon, just weeks after vetoing similar legislation.
The new bill would downgrade the legal protections governing around 27 percent, or close to 350,000 hectares, of the Jamanxim national forest in the northern state of Para. The original proposal, vetoed last month on the eve of the president's trip to Norway, would have reduced the area under preservation by nearly 600,000 hectares, according to World Wildlife Fund. During Temer's visit, Norway announced plans to cut its funding of Amazonian conservation projects due to Brazil's failure to prevent a rise in illegal deforestation.
Changes to the status of the region will permit land there to be sold, cleared of forest, used for agriculture and livestock as well as for mining activities, according to the state news agency Agencia Brasil. Legislators from the country's agriculture caucus, a key part of Temer's base, lobbied for the downgrade. The president had vetoed the original bill not because disagreed with the spirit of the proposal but because lawmakers inflated the area to be downgraded, according to two aides who were not authorized to speak on record. Temer needs all the support he can muster at present as he battles to secure enough votes to avoid trial at the Supreme Court.
Environmental organizations, including the WWF, argued that the earlier bill would put biodiversity and water resources at risk. The rate of deforestation in the Amazon rose 29 percent in July 2016, compared with August 2015, according to the National Institute for Space Research, or INPE. Para was the Brazilian state with the highest rate of deforestation.
In June, Temer confirmed his decision to veto the original proposal in a tweet to Bundchen, who is also an environmental campaigner. It was not enough, however, to mitigate the concerns of the Norwegians, who announced their decision to cut their Amazon Fund contribution on June 23.
— With assistance by Samy Adghirni
Before it's here, it's on the Bloomberg Terminal.
LEARN MORE