Five Takeaways From China's Weekend Meeting on Financial Regulation
Bloomberg News
President Xi convened the twice-a-decade gathering July 14-15

Support for the real economy, risk-prevention were emphasized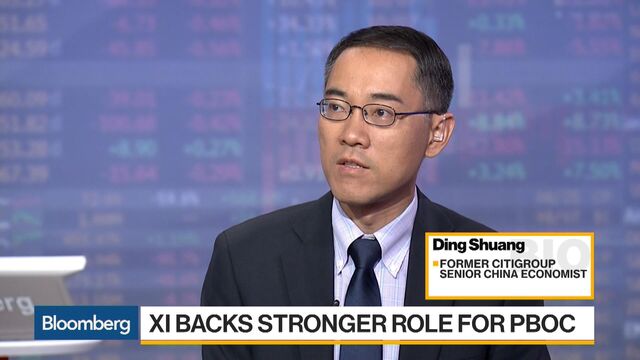 For investors, possibly the most important thing that happened in China during the weekend was a closed-door conference on regulation that could set the scene for the financial sector's next five years.
Many details remain unclear. The most concrete decision out of the meeting so far is President Xi Jinping's announcement of the creation of a cabinet-level committee to coordinate financial oversight - a task currently divided among four regulators including the People's Bank of China.
The National Financial Work Conference convenes twice a decade, yet officials follow its edicts for years to come. This session offered policy guidance that may be endorsed at the 19th Communist Party Congress later this year.
"Xi's decision to ramp up the regulatory powers of the PBOC and to establish a commission to oversee financial stability and development reflects the increasing financial sector vulnerabilities in the Chinese financial system," said Rajiv Biswas, Asia-Pacific Chief Economist at IHS Markit in Singapore. "The Chinese government wants to prevent a financial crisis in China that could create shock waves in the domestic economy and create a rising risk of social unrest."
Here's what else to watch:
'Eternal Theme'
Preventing systemic risk is the "eternal theme" of the country's financial work, the official statement said, highlighting that tight regulation and avoiding financial hazards and will continue to take a front seat.
The oversight should cover all activities and be "professional, consolidated and penetrating," Premier Li Keqiang noted at the meeting.
Strong words were also heard on greater accountability for regulators, with the statement saying it would be a "dereliction of duty" if regulators fail to spot and dispose of risks in a timely manner, and that China should create an "austere regulatory atmosphere."
"Given that China's markets are seeing such obviously reckless activity in places, this is welcome," said Michael Every, senior Asia-Pacific strategist at Rabobank in Hong Kong. "Tighter, more-centralized regulatory powers -- if that's what this will really mean -- under the PBOC are welcome," he said.
PBOC Role
Indeed, the meeting reinforced the PBOC's central position in the "modern financial regulation framework," and its role in defending against risks was emphasized, largely in line with market expectations.
Upgrading the central bank's regulatory power is appropriate because its professionalism can "reduce the blows caused by upgraded oversight to the real economy," said Zhu Qibing, chief macro economy analyst at BOC International China Ltd. in Beijing.
But we don't know yet who's really in charge, or how the work on the new cabinet-level committee will be divided up.
Something to watch out for: The naming of a successor for PBOC governor Zhou Xiaochuan. 
"The fact that the NFWC was delayed from January but eventually held probably shows that the top leadership has reached conclusions on a number of key sector issues, including personnel arrangements," according to Liu Li-gang, chief China economist at Citigroup in Hong Kong. "We expect the replacement of Mr. Zhou Xiaochuan, the longest-serving central bank governor, to be announced in coming weeks."
Slower Opening 
At the same time, a more conservative attitude toward financial opening-up has come out of the meeting, according to Zhu.
"Deepening financial reforms and opening up" was stated only as the last objective out of the three that Xi listed for the financial sector, after "serving the real economy" and "preventing risks." While some widely-expected currency reforms remain on the to-do list, they should be "arranged in a reasonable order," according to the statement.
"Opening up is certainly taking a back seat," and people should look for a stronger focus on the domestic side before any further opening of the financial system goes forward, said Andrew Polk, co-founder of research firm Trivium China in Beijing. "That's what most of the academic literature on financial reform identifies as the proper sequencing."
SOE Debt 
The meeting also signaled that ongoing deleveraging in the financial sector could expand into the broader economy, with the debt of state-owned enterprises as the first priority. 
China's high leverage comes mostly from corporate debt, in which state-owned enterprises make up the majority, according to Ming Ming, a former PBOC monetary policy official who's now head of fixed-income research at Citic Securities Co. in Beijing.
Expanding the deleveraging campaign across the economy means debt-to-equity swaps and initial public listings could see a boost as alternative means of financing to reduce corporate leverage, China International Capital Corp. economists led by Chen Jianheng wrote in a note.
Neutral Omission
There were even some hints on monetary policy. The statement said China should "firmly take prudent monetary policy," omitting the "neutral" word top policy makers adopted late last year as they kicked off a nationwide deleveraging campaign. The pledge to "reduce lending costs for the real economy" has returned, after being dropped in late 2016.
The changes indicate "no more tightening" in monetary policy, although there isn't any probability of going back all the way to loosening, Deng Haiqing, chief economist at JZ Securities Co. in Beijing, wrote in a note.
— With assistance by Yinan Zhao, and Kevin Hamlin
Quotes from this Article
Before it's here, it's on the Bloomberg Terminal.
LEARN MORE