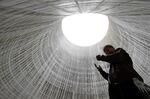 A decade ago, nuclear power plants in the U.S. were cash cows. Now more than half of them are bleeding cash, knocked from profitability by the shale-gas glut that's tanked electricity prices. Five nuclear plants were closed prematurely in the past five years, and more are on the chopping block. The industry used to look down on the subsidies needed by its clean-energy rivals, wind and solar power. Now some states are offering subsidies to nuclear plants similar to the ones that wind and solar generators -- whose costs have plunged -- are outgrowing. The trend has implications not just for America's future power supply but for global efforts to combat climate change.
1. Who's subsidizing nuclear power?
New York, in August 2016, approved as much as $500 million a year in extra payments to keep four reactors operating for another 12 years. Illinois in December approved about $235 million worth of annual subsidies to rescue two plants. Legislators in Connecticut and Ohio have considered state support. Nuclear plant owners have begun advocating for help in Pennsylvania and New Jersey. Without state intervention, plants have closed or are scheduled to close prematurely in California, Massachusetts, Michigan, Nebraska, New Jersey, Pennsylvania, Vermont and Wisconsin.
2. Why are nuclear plants in trouble?
Other sources of power have gotten much cheaper. Plants are burning natural gas unlocked by the past decade's shale boom; wind and solar energy are subsidized and increasingly inexpensive. Of the 61 operational nuclear power plants in the U.S., 34 are losing money -- $2.9 billion per year collectively, according to a Bloomberg New Energy Finance analysis released in June.
3. Why not let the nuclear plants shut down?

For one thing, mothballing a plant costs almost as much as running it, given the need to manage radioactivity safely and assure plant security, according to the Nuclear Energy Institute, an industry group. Plus there's a big concern about jobs. About 100,000 people work in U.S. nuclear plants, with another 375,000 jobs directly dependent on them. New York regulators estimated keeping their plants open saved 23,800 jobs, and Exelon says the intervention by Illinois saved 4,200 "related" jobs at reactors. It also promised to hire more than 400 permanent staff to upgrade the plants in addition to the 3,000 electricians, pipe fitters, welders and other laborers hired each year during refueling outages.
4. How do the subsidies work?
New York created "zero emissions credits" that utilities buy from the at-risk plants and charge customers for. The initial price of the credits -- $17.48 per megawatt-hour of production -- is based on the U.S. government's social cost of carbon, intended as a comprehensive estimate of climate-change damage from burning fossil fuels like coal and natural gas that add heat-trapping carbon dioxide to the atmosphere. Illinois's similar program set the price at $16.50 per megawatt-hour. In Connecticut, lawmakers debated but haven't yet passed a proposal to help the state's sole nuclear plant by requiring utilities to buy zero-carbon power, taking bids from both nuclear and renewable-energy plants.
5. Who wins, and who loses?
Owners of nuclear plants that sell power into wholesale markets are clear winners. So far, that's mainly Exelon Corp. Non-nuclear competitors insist they are losers because subsidized plants can underbid them in wholesale markets. "The nuclear folks are seeing an opportunity to get a little extra sugar in their coffee at the expense of other people," said John Shelk, president of the Washington-based Electric Power Supply Association, which represents power generators including Dynegy Inc. and Calpine Corp.
6. How are competitors responding?
Gas-powered generators filed lawsuits against the New York and Illinois subsidies and asked the Federal Energy Regulatory Commission to void them. Defenders of the subsidies note they are modeled on those for wind and solar that have already passed muster. Opponents contend that subsidies for existing plants are a different animal. The commission has begun weighing market alternatives, and the Energy Department is studying how subsidies affect the reliability of the nation's power grids.
7. What does this mean for global warming?
Achieving global climate goals is almost impossible without nuclear plants, which produce energy without any planet-warming greenhouse gases, says BNEF's Chris Gadomski. Declines in emissions from U.S. power generation since 2012 would be wiped out if natural gas-burning plants replaced the zero-carbon nukes, according to BNEF. Plant emissions would rise by the equivalent of 175 million metric tons of carbon dioxide annually, equivalent to adding 37 million passenger vehicles. New York calculated a net benefit of $1.8 billion from its nuclear and renewable subsidies, based on an estimate that $3.1 billion of carbon dioxide would otherwise enter the atmosphere.
8. Are nuclear plants being subsidized elsewhere in the world?
Although nuclear generation is state-supported in some nations, no other country that's adopted competitive power markets seems interested in preserving money-losing reactors, according to NEI. Gadomski says new nuclear projects have fallen from favor amid cost overruns and the growing glut of natural gas. Germany has shuttered nine reactors since the 2011 Fukushima disaster in Japan and is collecting money from plant operators for a nuclear-waste fund that will enable the closing of the eight remaining reactors by the end of 2022. Japan's own nuclear fleet is slowly restarting.
The Reference Shelf
Before it's here, it's on the Bloomberg Terminal.
LEARN MORE