business
Schwab Is Back With First ETF Since 2013
By
Company plans large-cap stock fund based on in-house index

'Force to be reckoned with,' Schwab now 5th-largest issuer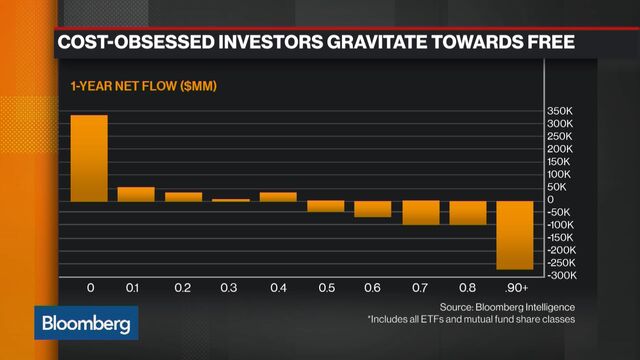 It's been a long time coming, but Charles Schwab Corp. is shaking up the exchange-traded fund industry once again with plans for its first new offering in four years.
Charles Schwab Investment Management, the brokerage's money-managing arm, is seeking approval for a stock ETF that would track a proprietary index of the 1,000 largest U.S. companies, according to regulatory filings.
The company's last ETF started trading in August 2013, when Schwab was the 10th largest U.S. ETF issuer with $17 billion under management, data compiled by Bloomberg show. It's now comfortably in fifth place with $80 billion of assets, and beginning to challenge the dominance of more established rivals such as BlackRock Inc.

Schwab's low-cost, wide-distribution model has helped the issuer leapfrog competitors, after starting its ETF business less than a decade ago. The San Francisco-based company has capitalized on the trend toward online investment advice with its own digital superstore that lets clients choose from more than 200 funds, including Schwab's own. The funds have also become a favorite of robo advisers, which rely on cheap products to deliver inexpensive, or free, advice to their clients.
"They're a force to be reckoned with," said Eric Balchunas, an ETF analyst for Bloomberg Intelligence. "In an era when people are obsessed with cost and demanding free exposure, Schwab is more than willing to serve that up, and it's working."
The Schwab 1000 Index ETF would be the issuer's first to use an index created in-house, reducing Schwab's costs and potentially allowing it to charge as little as zero to two basis points in management fees, said Balchunas. The fund's expense ratio wasn't disclosed in the filings.
If approved, the fund would be Schwab's 22nd ETF in the U.S. By contrast, New York-based BlackRock -- the world's largest asset manager -- has more than 300 such funds, which account for 40 percent of the market, or $1.2 trillion. Despite it's rapid growth, Schwab's share is just 2.7 percent.
Alison Wertheim, a spokeswoman at Schwab, declined to comment while the fund is being considered by the regulators.
Before it's here, it's on the Bloomberg Terminal.
LEARN MORE